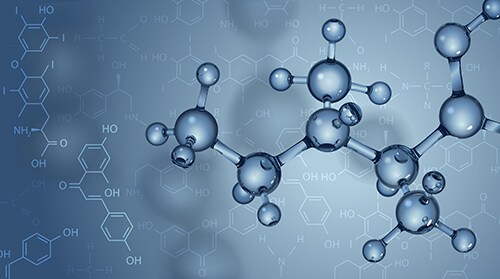 To more specifically identify or distinguish analytes, researchers can look at variations in rare isotopes (e.g., H, C, N, O and S) or isotopologues. An isotopologue is a chemical that differs from its parent chemical in that at least one atom has a different number of neutrons. Finding isotopologues of different analytes is useful in fields such as forensics, biogeochemistry and personalized medicine. For example, metabolite and drug interactions can be identified using naturally occurring variations in isotopes, versus the current method in which isotopic labeling is required to perform studies. Further, criminal cases could be assisted by isotopologue identification in naming the origins of illegal substances. Current methods of identifying rare isotopes are restricted by sample type and size. While mass spectrometry can identify site-specific and clumped isotope species, it faces challenges in samples with large molecules (> 70 amu) and in identifying multiple isotopologues in a single molecule.
Eiler et al. (2016) developed a technique that helps solve some of the above issues: orbitrap-based Fourier transform isotope ratio mass spectrometry (FT-IRMS).1 Using a Q Exactive GC Orbitrap GC-MS/MS system (Thermo Scientific), an FT-based MS instrument, analytes are delivered with gas flow, and ions are created via electron impact. Mass-range selection is determined using advanced quadrupole technology, and mass analysis is created using Orbitrap mass analyzer-based detection. This system's fast, automated analysis allows for mass resolutions of 105 and identification of large numbers of peaks across a broad mass range.
Because having highly controlled sample and standard comparison is important, the group further adapted the Q Exactive GC Orbitrap GC-MS/MS system with three variations:
a GC column
an open split
a pair of reservoirs
These systems increase the time a peak is observed and allow for analysis of room temperature gases as well as stable delivery of sample or standard to the ion source. In analyzing the resolution and sensitivity of the system, the group exceeded resolution seen from other methods of IR analysis and observed robust separation of isotopologues in molecules up to 500 amu. The precision and accuracy of the group's method is comparable to existing technologies, in which precision limits are controlled by peak intensities and time.
Researchers can benefit in a number of ways from using the group's Orbitrap-based FT-IRMS instrument. First, the method offers mass resolutions of isotopologues at molecular or fragment masses ≤ 500 amu. Next, the technology offers both speed and mass range in the analysis of many species per sample. Finally, the group conferred sensitivity to analyze trace amounts of submicromolar samples or substituted species quantitatively. Overall this technology will help researchers in multiple fields identify a range of samples in a fast, sensitive and specific way.
Reference
1. Eiler, J., et al. (2016, June) "The 100 isotopologue challenge: Orbitrap mass spectrometry as a means of high‐dimension clumped and position‐specific isotope analysis," poster presented at the 64th ASMS Conference on Mass Spectrometry and Allied Topics, San Antonio, TX, June 5–9, 2016.
Post Author: Rebecca Easley Carpio.