Advances in upstream bioprocessing have created bottlenecks in downstream processing – particularly during chromatography purification. Other challenges in downstream processing include the labor intensive buffer preparation operations and the cleaning and validation of traditional equipment. Learn how Thermo Fisher Scientific provides solutions to drive efficiency throughout your downstream bioprocess.
We have developed multiple strategies for downstream buffer preparation and supply and we are integrating single-use technologies into downstream workflows to drive process simplification. To stay ahead of future downstream needs, we are focusing on novel purification platforms to address new molecules and therapies in your pipeline and process analytical testing to ensure removal of product- and process-related impurities, including host cell components and leached proteins.
Downstream purification Buffer preparation and supply Process analytical testing Bulk storage and final fill POROS chromatography resins Liquid products for bioprocessing Host cell residual DNA quantitation Rigid containment CaptureSelect affinity products Single-use mixers and liquid handling Protein quantitation Storage and transport Custom chromatography services Production raw materials and supply chain services Microbial identification
Downstream
purification

Buffer preparation
and supply

Process analytical
testing

Bulk storage
and final fill
Devise strategies for even the most complex molecules and processes with purification products that can operate at flow rates that support continuous applications, offer the highest specificity for their target molecule, and enable purification of novel biologics.
| | |
| --- | --- |
| POROS resins: Achieve high-resolution polishing of biomolecules with a robust resin that can also support rapid cycling required for continuous applications. | |
| CaptureSelect affinity ligands: Leverage the superior selectivity of these ligands toaddress purification of novel biotherapeutics and enable a high-purity biopharmaceutical product in a single step, reducing process times and steps. | |
| Custom ligand and chromatography resin services: Enable the development of innovative purification resins, providing a solution for challenging downstream processes, even where purification strategies may not currently exist. | |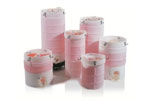 Choose the right approach to reduce costs and gain productivity in buffer preparation — from in-house single-use mixing systems to complete outsourcing models—designed to maximize manufacturing flexibility.
| | |
| --- | --- |
| Outsourcing or selective outsourcing: Help manage cost and supply challenges by letting us manage your buffer manufacturing leading to gains in efficiency. With supply chain services to support just-in-time delivery of liquid or pre-weighed powder products, you can also optimize your capacity and operations. | Learn more |
| In-house buffer preparation: Eliminate laborious cleaning and validation steps by transitioning to single-use equipment, combined with extensive solutions for liquid storage and transport needs. To address your technical or solubility challenges we offer two mixing systems based on two different yet efficient mixing approaches. | |
Ensure the quality and safety of your pharmaceutical products by detecting impurities and identifying contaminants with rapid molecular techniques that are quickly becoming the standards for pharmaceutical analytics worldwide.
| | |
| --- | --- |
| Host cell residual DNA quantitation: Quantify the amount of residual DNA in a drug's final dosage form to ensure it meet regulatory guidelines with a sensitive, high-throughput solution. | |
| Protein quantitation: Utilize a sensitive and robust immuno–PCR-based method to accurately quantify protein impurities and contaminants, like host-cell proteins or protein A. | |
| Microbial identification: Utilized by pharma companies worldwide for environmental monitoring, contamination investigation, root cause analysis, raw materials testing, and microbial identification. | |
For processing and storage of critical liquids, rely on high quality flexible or rigid single-use bioprocess containment and transfer systems that can be optimized for your process—with the industry's largest component library to support your custom designs.
| | |
| --- | --- |
| Flexible containment: Ready-to-use standard and custom containment systems and transfer assemblies that allow you to choose the best option for your specific application, backed by multiple manufacturing sites help ensure supply. | |
| Rigid containment: Designed specifically for the storage and transport of active pharmaceutical ingredients and bulk intermediates, our solutions offer leakproof* storage for sensitive liquids, buffers, media, and more. | |
| Critical environment containers: Understanding different cleanliness and validation options, as well as their impact, can help you to identify quality products that will not influence the integrity of your product. | |
Click below to access products brochures, training videos, mobile apps, and more.
For manufacturing, processing or repackaging.