Science and research was not at the top of Teri Kennedy's priority list three years ago. Her interests were in raising her two daughters, her career as a financial analyst, playing competitive tennis on a regular basis and participating in power yoga classes most days of the week. But a trip to her doctor's office after experiencing wheeziness in her lungs would eventually lead to a change in her perspective and purpose in life.
A series of tests and scans led to the conclusion that what her doctors had originally thought was asthma or pneumonia was actually stage IV non-small cell lung cancer (NSCLC), with evidence of the disease in some of her bones.
"Before my diagnosis I didn't pay much attention to medical research, but now I rely on it for my treatments," says Teri, who has participated in several clinical trials.
Teri has become an expert of sorts, and an advocate for research about her particular type of cancer. Genetic testing identified her tumor as having the EGFR mutation, a genetic aberration seen in 10-15 percent of U.S. patients, and in 35 percent of patients in Asia. In the U.S. alone, more than 20,000 people are diagnosed with EGFR-positive lung cancer each year. After understanding the need for more research for the development of effective therapies, Teri co-founded the EGFR Resisters, a group of more than 500 EGFR-positive cancer patients from 16 countries.
Similar to the ROS1ders (co-founded by Janet Freeman Daily), the EGFR Resisters work with advocacy groups and medical professionals to raise awareness, drive research and fund clinical trials with the goal of making EGFR cancer a chronically managed disease. On June 23, Teri will be getting the word out in Sacramento where she and about 600 other supporters will participate in the 3rd Annual Your Next Step Is the Cure event hosted by the Bonnie J. Addario Lung Cancer Foundation.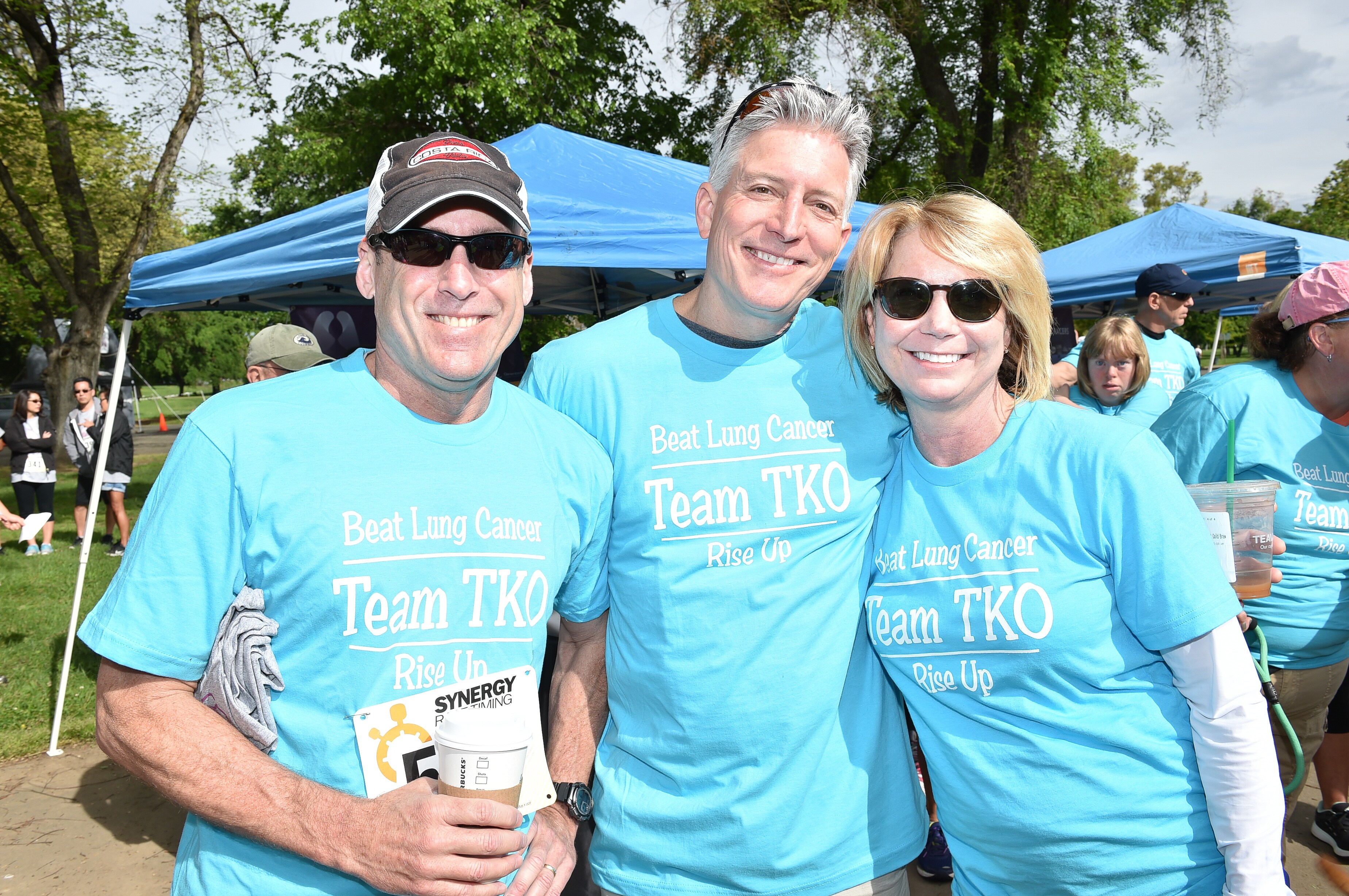 Sponsored in part by Thermo Fisher Scientific, the 5K walk/run helps raise much-needed funds for patient services and clinical research projects from the Bonnie J. Addario Lung Cancer Foundation. Thermo Fisher began supporting such events in 2018 to bring attention to next generation sequencing (NGS), and the value that NGS-based companion diagnostics, such as its Oncomine Dx Target Test, can provide NSCLC patients to more efficiently match them to targeted therapies.
"It's an uplifting event and means so much to have the support of friends and family who participate, and to be with other survivors and caregivers who are working together to drive patient assistance and more research in this area," Teri says.
Teri's treatment journey has led her through multiple rounds of chemotherapy, four clinical trials and being placed on two EGFR targeted therapies, including afatinib. As is the case with about 70 percent of EGFR-positive patients, however, Teri eventually developed acquired resistance to her treatments, and has since been put on a more aggressive chemotherapy regimen before potentially going back on another targeted therapy.
"The targeted therapy did not bother me at all. I continued to do everything I normally do within reason for quite some time," Teri says. "I just needed to take a pill a day and was able to live a normal life. The current thinking is that it might be effective against the disease by rechallenging it after being off a targeted therapy for a while."
Despite the wins and setback she has experienced during her journey, Teri remains hopeful. She still tries to stay active when she's feeling up to it, but also tries to be an uplifting voice to newly diagnosed patients she meets.
"I tell them that there are a lot of us out there that are healthy and thriving," Teri says. "I also tell them about the importance of genetic testing. There are at least three mutations that have targeted treatments for them and the quality of life can be particularly good when you're on them. Although the overall statistics for EGFR-positive cases aren't ideal, there is still the potential for new treatments in development. So we have to keep hope."
Thermo Fisher Scientific sponsors Bonnie J. Addario Lung Cancer Foundation's annual 5K walk/run