Most embryos containing aneuploidy—an extra or loss of a chromosome—end up dying. However, some embryos containing this form of copy number variation do survive and develop to term. Some chromosomal aneuploidies that are viable end up forming the basis of diseases such as Down Syndrome (trisomy 21 or three chromosome 21 instead of the normal two), monosomy X (Turner Syndrome – just one X chromosome in females), Edwards syndrome (trisomy 18), Palau Syndrome (trisomy 13), -Klinefelter Syndrome (XXY, or two X chromosomes and a Y), and Triplo-X syndrome (XXX or three X chromosomes in females).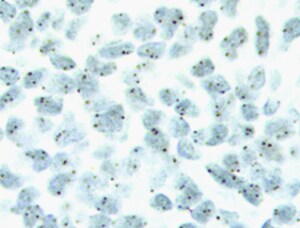 While all the reasons why aneuploidies occur remain to be understood, inheritance patterns and parental age appear to play a role. And while many hopeful parents will attempt in vitro fertilization (IVF) techniques, these procedures require the creation of 6-10 embryos and pre-implantation genetic screening to determine which of the embryos lack aneuploidies and should be carried to a term pregnancy. These procedures, when conducted using microarray comparative genomic hybridization, are expensive and time-consuming. What's more, multiplexing (testing multiple embryonic samples simultaneously) is often desirable.
Could NGS be used to develop a new test for aneuploidy?
NGS may in the future be used to rapidly and affordably perform aneuploidy detection. There has been growing interest in a technique that can reliably and accurately detect aneuploidy and do so both rapidly and affordably. Researchers are starting to look at developing NGS techniques, including use on the Ion PGM™ System that could point to a possible way for NGS applications to impact pre-implantation genetic screening.
Dagan Wells of Oxford University and his colleagues recently used the Ion PGM™ System to identify chromosomal abnormalities in archived samples in less than 15 hours, their NGS tests were shown to be highly sensitive and specific (and compared favorably to microarray techniques). The researchers performed low-pass whole-genome sequencing on a 61 retrospective single-cell samples—six were derived from cell lines, and 38 from embryonic samples, including 32 blastocysts.
The blastocyst samples were multiplexed on a single Ion 316™ Chip. Comparisons to aCGH results showed a chromosome concordance rate of 99.7 percent. In addition, the study revealed an association mitochondrial DNA (mtDNA) and aneuploidy where embryos that exhibited elevated amounts of mtDNA appeared to be at a greater risk of chromosomal abnormalities.  These results suggest indicating areas of fertile future research.
In another study, Thermo Fisher Scientific scientists analyzed 10 normal samples and a reference set of 10 samples with known aneuploidies. The default medium sensitivity setting of Ion Reporter™ Software detected 100 percent of aneuploidies in the 10 reference samples, using low-pass sequencing data with 0.01x read coverage. All 28 copy number changes, including a sub-chromosome loss of just 18 Mb (mega-base pairs) on chromosome 3, were detected. The results were also 100 percent concordant with aCGH results.
Research using the Ion Torrent™ semiconductor sequencing and Ion Reporter™ software have been demonstrated to be sufficiently sensitive to detect aneuploidies and other sub-chromosomal events quickly and accurately. Genomic DNA from a small number of cells — even single cells in combination with whole-genome amplification — can be used in the Ion PGM™ sequencer workflow to enable low-pass sequencing of the entire genome.
Time and tissue of the essence
During IVF a woman typically produces 6 to 10 embryos in a single cycle. Pre-implantation genetic screening may use a single cell removed from these embryos to identify candidate embryos in a cycle that may lead to a successful pregnancy. Timing is critical and should be quickly transferred for effective implantation. Screening times of less than 24 hours are therefore desirable to complete a comprehensive look at all 23 pairs of chromosomes in a multiplexed sample.
Genetic analysis using technologies such as the Ion PGM™ sequencing system can provide a sample-barcoded, simultaneous analysis of all 23 chromosomes in a single whole-genome sequencing run, in less than 15 hours. Currently, researchers may also gain insight into the phenomena of increased mitochondrial DNA dosage as it relates to aneuploidy. In the future, NGS may provide a new way to quickly and reliably identify these chromosomal disruptions.
Ion PGMTM System, Ion 316TM chip, and  Ion ReporterTM software are For Research Use Only. Not for use in diagnostic procedures.