Searching for rare mutations in a majority wild-type background is a challenge when studying tumorigenesis. Earlier this year at the European Society for Human Genetics we interviewed a researcher using the QuantStudio® 3D Digital PCR System for rare KRAS mutations in cell-free DNA samples, and at that same meeting we also interviewed one of our internal application scientists who was looking at leukemia chimerism in a poster she presented.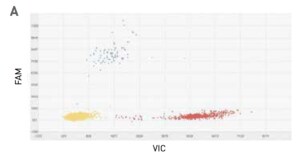 We now have the QuantStudio® 3D Rare Mutation Analysis Solution which includes 38 QuantStudio 3D wet-lab-validated TaqMan® SNP Genotyping Assays assays along with streamlined analysis for detection of somatic mutations as low as 0.1% in prevalence.
These custom TaqMan® SNP Genotyping Assays cover key somatic mutations in the KRAS, BRAF, EGFR, PIK3CA, and JAK2 genes, based on both frequency of occurrence in tumorigenesis as well as overlap with the Ion AmpliSeq™ Cancer Hotspot Panel v2. The list of verified assays are available for download here, and we plan to routinely expand this list.
If you'd like to hear Dr. Iain Russell at the recent American Society for Human Genetics meeting discussing this product, you can find the interview here, and for more information you can access the product pages here (including a product overview bulletin PDF, a user guide and ordering info