Around the world researchers are rushing to learn about the novel coronavirus (SARS-CoV-2) that causes COVID-19 in order to develop faster testing methods. Because SARS-CoV-2 is a novel pathogen, no tests were in existence at the beginning of the outbreak. However, due to the earlier SARS crisis, much of the groundwork had been established and there had been progress in identifying viral RNA. For example, the following methods have all been used to develop SARS-CoV-2 testing: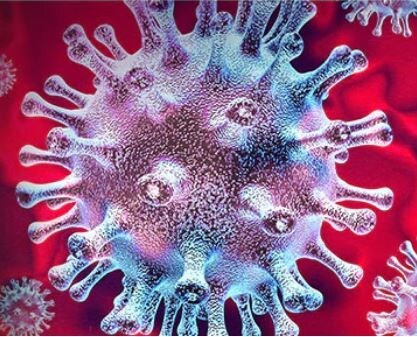 SARS-CoV-2
Polymerase Chain Reactions (PCR) tests have been in use for some time, to rapidly make millions to billions of copies of a specific DNA sample, allowing scientists to take a very small sample of DNA and amplify it to a large enough amount to study in detail.
Reverse transcription polymerase chain reaction (RT-PCR) is primarily used to measure the amount of a specific RNA. This is achieved by monitoring the amplification reaction using fluorescence.
Reverse transcription loop-mediated isothermal amplification (RT-LAMP) is a one-step nucleic acid amplification method that is used to detect bacteria or viruses that cause infectious disease. This method can be very effective in detecting viruses with an RNA genome.
RNA sequencing data obtained from tissue in the human body to establish how SARS-CoV-2 enters and binds to receptor cells in different locations (1).
When everyone can be tested quickly and accurately, cases of infection can be identified swiftly, and tracing can prevent further spread.
Difficulties exist in the various testing methods. PCR and RT-PCR have limitations, like the need for high purity samples and access to expensive laboratory instruments. They also have long reaction times. Some methods require larger samples or cannot extract enough information from small samples. Because of this, early testing took three to five days with shaky results. New developments in lab equipment and testing methods are speeding the test turnaround to as little as 40 minutes.
Two recent studies using this technology to speed up testing and identification include:
Development of a rapid (<40 min), easy-to-implement and accurate CRISPR–Cas12-based lateral flow assay for detection of SARS-CoV-2 from respiratory swab RNA extracts using the Invitrogen™ Qubit™ Fluorometer for quantification. RNA was quantified by Thermo Scientific™ NanoDrop™ spectrophotometers and Qubit™ Fluorometer and diluted in nuclease-free water to working concentrations (2).
Amplicon and metagenomic MinION based sequencing can be used to rapidly identify SARS-CoV-2 and assess the microbiome in nasopharyngeal swabs obtained from subjects with SARS-CoV-2 by the ISARIC 4C consortium. Amplicon based MinION sequencing of SARS-CoV-2 and metagenomic characterization of nasopharyngeal swabs from subjects with SARS-CoV-2. Amplicons with ligated adapters were quantified on the Qubit Fluorometer before being loaded onto a flow cell (3).
In the race to develop accurate research test kits, leveraging the latest laboratory technology is critical. Specifically, Qubit™ Fluorometers and NanoDrop™ Spectrophotometers have proven to be very valuable in efforts to better understand SARS-CoV-2 and develop improved diagnostic testing. Qubit™ Fluorometers use target-specific reagents to accurately and precisely quantify sensitive nucleic acid samples (Figure 1). UV absorbance instruments offer higher detection limits, but are less sensitive than fluorometers. Unlike traditional UV instruments which lack the ability to differentiate between DNA and RNA in a sample, NanoDrop™ One/OneC uses advanced chemometrics to provide information about sample quality by identifying common contaminants and can distinguish DNA from RNA to deliver accurate quantification of higher concentration samples.
Performance of the Invitrogen Qubit dsDNA HS Assay. The  Qubit dsDNA HS Assay has a linear detection range of 0.2–100 ng and is selective for dsDNA, even in the presence of an equal mass of RNA.
The fluorometer works by detecting fluorescent dyes that are specific to the target of interest. These fluorescent dyes emit only when bound to the target molecules, even at low concentrations. It's important to note that fluorescence-based quantification using the Qubit system distinguishes between RNA and DNA in the same sample whereas UV absorbance readings do not. UV absorbance measures anything absorbing at 260 nm — DNA, RNA, protein, free nucleotides, or excess salts. The spectrophotometry often does not have the sensitivity to accurately measure low concentrations of DNA or RNA. The Qubit Fluorometer enhances research by providing more accurate measurements because the dyes in the Invitrogen™ Qubit™ assay kits fluoresce only when bound to the selected molecule in the sample.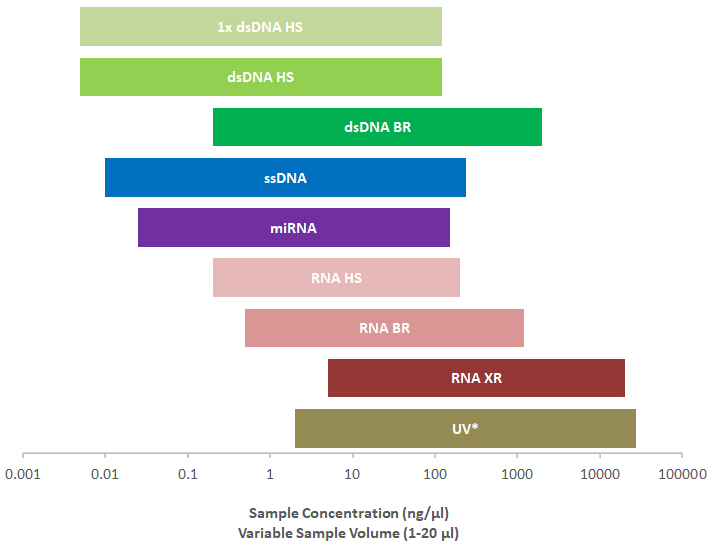 Comparison of sample concentration ranges for Qubit assays and UV absorbance measurements. UV absorbance readings are not selective for RNA vs DNA. The Qubit 4 and Qubit Flex Fluorometer and all Qubit assays are optimized for use together.
Explore additional SARS-CoV-2 research solutions from Thermo Fisher at thermofisher.com/coronavirus.

Additional SARS-CoV-2 blog posts 
References
1. Qi, F., Qian, S., Zhang, S., et al. (2020). Single cell RNA sequencing of 13 human tissues identify cell types and receptors of human coronaviruses. Biochemical and Biophysical Research Communications, 526(1): 135-140. doi:10.1016/j.bbrc.2020.03.044
2. Broughton, J. P., Deng, X. L., Yu, G. Y., et al. (2020). Rapid Detection of 2019 Novel Coronavirus SARS-CoV-2 Using a CRISPR-based DETECTR Lateral Flow Assay. Preprint at medRxiv doi:10.1101/2020.03.06.20032334
3. Moore, S. C., Penrice-Randal, R., Alruwaili, M., et al.  (2020). Amplicon based MinION sequencing of SARS-CoV-2 and metagenomic characterisation of nasopharyngeal swabs from patients with COVID-19. Preprint at medRxiv doi:10.1101/2020.03.05.20032011 

For Research Use Only. Not for use in diagnostic procedures.