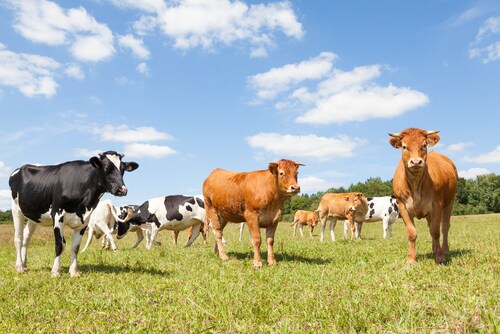 A recent paper by Stothard et al. (2015) shows current progress in the Canadian Cattle Genome Project, which is sequencing breeds within the Canadian herd to serve as a reference library for future breeding decisions.1 In addition to reporting the genomic studies, the paper indicates that researchers also needed to coordinate within a diverse biobanking system to obtain these often-historic samples.
Breeding cattle has always been an art and a science; choosing a bull as sire for a herd has never been a chance occurrence. Farmers deliberately select animals to improve the herd by maximizing desirable physical characteristics that give benefits for production and husbandry. With the complete sequencing of the entire cattle genome in 2009 (Bos taurus), the science behind breed improvement has now moved beyond a keen eye and into the -omics era. The Bovine Genome Sequencing Project, of which the Canadian Cattle Genome Project is part, is a large international initiative with studies running in many countries to map cattle breed genomics and traits. Through genomic sequencing, researchers can associate markers such as single nucleotide polymorphisms with desirable phenotypic traits. With this information, researchers and farmers can breed cattle selectively for improved feed conversion, disease resistance, docility under husbandry conditions, and other characteristics that improve production, animal welfare and environmental conditions.
In order to build a diverse library of bovine genome sequences, the researchers first identified the animals of interest. The team was interested in sequencing bulls that had made the greatest impacts on cattle population genomics in Canada, including key sires from the 1960s. They chose representative individuals from each breed based on completeness of pedigree and breeding records, in addition to their contribution to the national cattle herd by progeny number. By selecting the top 30 ancestors in these breeds, the researchers hoped to cover approximately 50% of the population genome.
Once the bulls were identified, the researchers had to locate the samples. Since at the time there was no central cattle biobanking repository in Canada, researchers had to track down facilities holding them. According to coauthor Colin Coros, CEO of Delta Genomics, which was involved in coordinating the genomic acquisitions, samples came from a number of sources across Canada, including breed societies, university research stations and artificial insemination companies. Samples donated by the cattle industry included semen, hair and blood.
From this, Stothard et al. report that they have sequenced 379 whole genomes of individuals from 10 breed populations—7 pure (Limousin, Holstein, Angus, Simmental, Gelbvieh, Charolais and Hereford) and 3 composite (Beefbooster, Alberta and Guelph research populations)—that are important to the Canadian beef or dairy industries.
The research team carried out sequencing using next-generation sequencing tools including the SOLiD 5500xl system (Thermo Scientific). They performed appropriate quality-control steps before conducting principal component analysis to visualize clustering. Stothard et al. banked the DNA sequencing records along with animal information for other researchers to access. They identify each record with animal ID, location and breed in addition to sequence repository identifiers so that others may access the information.
In addition to the wealth of genomic data provided by this study, the project has also stimulated action on preserving historic cattle biosamples. During a telephone interview, Coros mentioned that Delta Genomics, with funding from the Alberta Livestock and Meat Agency, is helping secure genomic material from all of the major beef cattle breeds across Canada. This material comprises beef breed materials gathered since the 1980s, and although not of direct financial value, it represents the genetic legacy of the Canadian beef herd. According to Coros, consolidation such as this should help preserve access and facilitate further biobanking for ongoing cattle genomic research.
Reference
1. Stothard, P., et al. (2015) "A large and diverse collection of bovine genome sequences from the Canadian Cattle Genome Project," GigaScience, 4(49). doi: 10.1186/s13742-015-0090-5.