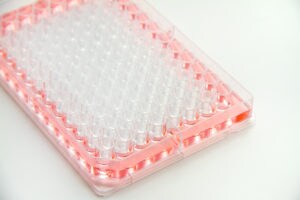 Defeating edge effect is paramount to achieving consistency in cell culture. Consistency is needed for accurate and effective cell culture research, and is especially important for those using cell cultures for disease models and drug screening, where reliability is paramount. There are numerous factors that can impact consistency, including contamination, spontaneous differentiation, poor growth and evaporation.
Accuracy and Reliability Evaporating Away
While microplates are excellent tools for making efficient use of space, evaporation of media can lead to changes in salinity, osmolarity and pH, as well as fluctuation in the concentrations of other media solutes. Ultimately this leads to changes that cause data inaccuracy and unreliability. Furthermore, when using automated workflows which are often employed in lead compound screening, assay noise and plate rejection can also be experienced. The drug discovery field is highly competitive and demands high investment of funds, meaning that evaporation can cost dearly.
A Solution is The Solution
Evaporation can occur across a 96 well plate but commonly occurs at the edges; this is known in many laboratories as the ominous edge effect. To circumvent the edge effect, many researchers choose to avoid using the wells at the edge, but this makes redundant the key advantage of microplates: space efficiency. By leaving the wells at the plate's edges empty, you will see a loss of 37.5% in capacity. Fortunately, solutions to eliminate evaporation are emerging. For example, Thermo Scientific Nunc Edge microplates use a moat filled with a sterile solution at the edge of the plate, a simple but effective solution to minimize if not prevent the edge effect. Solutions such as this will help researchers screening for anticancer drugs and those working with disease models to execute accurate and reliable cell-based assays in an efficient and cost-effective manner.
Some cell culture problems, such as contamination or suboptimal growth conditions, can be tackled through good practice, whereas others, such as the edge effect, require technological solutions. With innovations such as the Edge plate, researchers can obtain accurate and reliable data from their cell culture experiments.
To learn more about defeating edge effect, watch our on-demand webinar in the Cell Culture Cafe: Take your cell-based assays to the edge.