This two-part blog series explores how to use LIMS to enhance the overall scientific experience. In our last blog, we focused on how flexible interaction with LIMS can improve the lab-centric environment . This time, we delve into how data-centric elements play a role.
One of the main benefits of embracing digital transformation in the laboratory is better management, analysis, and tracking of data, contributing to the overall scientific experience. But laboratories create vast data sets, including experimental and operational data — both of which provide different and critical insights for the lab. With so much data available, how can it be effectively collected and used?
Lab data is made more accessible and manageable after digital transformation, most notably thanks to lab information management systems (LIMS). We saw in the first blog how LIMS can enhance the lab-centric environment. But LIMS offer numerous advantages to the data-centric environment in the lab, too:
Improved data integrity: Results are more reliable and data management is compliant with industry and regulatory standards
Solve challenges: Provide information to help personnel answer important scientific questions
Improved decision-making: Deliver knowledge to support decisions from lab capacity to product batch release
Collecting the data, however, is only part of the solution. To truly gain the most from your LIMS, you need to not only understand the data that is gathered, but also know how to make your data actionable, and how to organize it properly, to reap the maximum gains for the lab. Collected data that is underutilized does not add maximum benefit, leading to wasted investment. It also means that your organization risks stagnation, as it lacks the important data insights needed to find new and exciting ways to tackle critical business challenges.
LIMS offer many capabilities to streamline the collection and analysis of data for better decision-making. This blog explores three areas in which LIMS can be used to enhance the scientific experience through the data-centric environment: management and administration, scientific insight, and lab operations.
Management and administration
Effective management is important in any laboratory environment. It is vital for more than monitoring system access to ensure data security — it can also be used to help understand lab performance and compliance. With so much data available, user-friendly approaches are key for its effective utilization. This is where LIMS come in.
The Data Analytics Solution for Thermo Scientific™ SampleManager™ LIMS delivers real-time telemetry data through pre-configured dashboards, leading to simpler system administration (Figure 1). The dashboards output a plethora of data including lab management, sample turnaround times, and incident tracking metrics. With easier-to-interpret data, personnel can quickly make informed decisions to rapidly improve laboratory processes and workflows.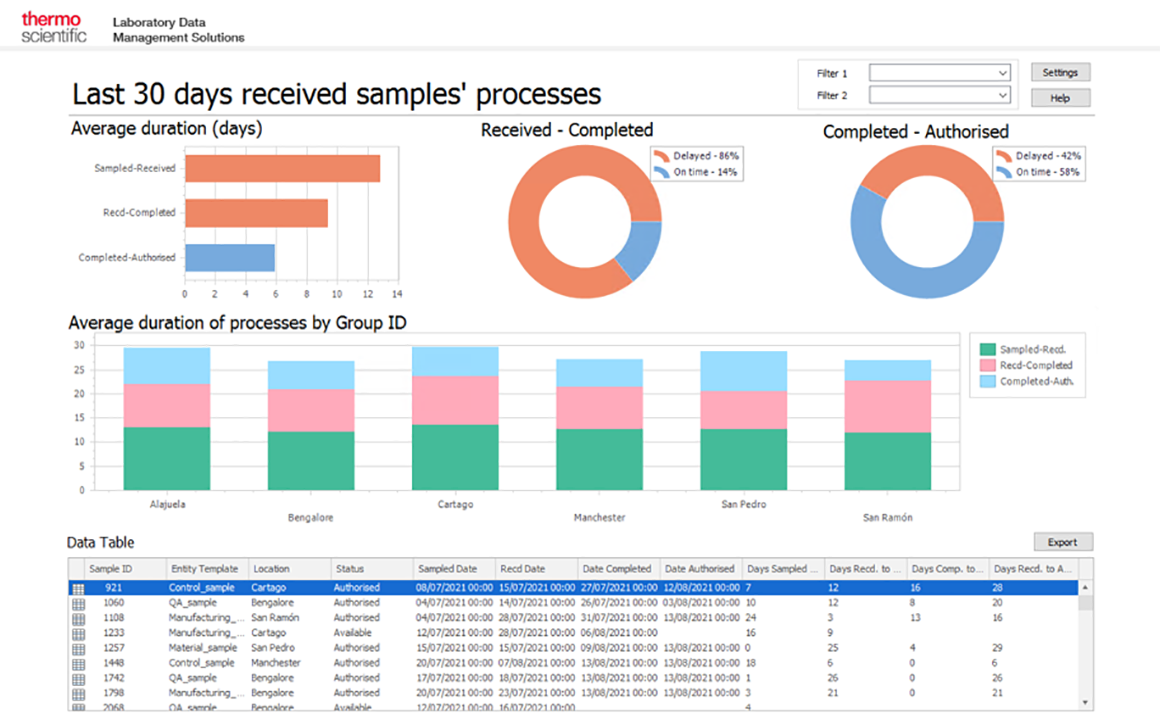 Scientific insight
As well as using current data to check up on processes in the lab, historic data can be used to see trends. Profiling comes as part of the Data Analytics Solution, using existing data and machine learning (ML) capabilities to predict test results.
Profiling is a highly useful capability that reduces the need for expensive/complicated tests by predicting the outcome in advance. This enables researchers to determine if a sample will "fail early" with fewer tests, thereby reducing consumables costs and saving sample analysis time. The Profiling capability can be used to gain scientific insight across a range of fields, from wine quality testing to predicting drug activity.

Lab operations
Data analytics solutions can also use historical data to improve lab operations. There are several insightful tasks that such solutions enable users to:
Monitor KPIs for better understanding of performance
Predict outages to avoid disruption
Identify and avoid rework for more efficient operations
The SampleManager LIMS Data Analytics Solution uses historical data for better forecasting, allowing the lab to plan for what is coming. By using these insights for planning, lab personnel can be hired, trained, or relocated in preparation for future needs. Lab stocks can also be replenished when necessary, reducing delays in workflows. And finally, future goals — including the number of tests required and workflow durations — can be defined, leading to greater process insights.
Enhance the scientific experience with LIMS
Enhancing the scientific experience offers many benefits to the lab, bringing higher productivity, happier personnel, reduced errors, and reproducible results all within reach. But there are many moving parts, and improving both lab-centric and data-centric aspects are fundamental to expand the overall lab experience.
LIMS are the glue that brings these two distinct sides together, providing a holistic approach and integrated solution to improve the lab experience. Ready to learn more? Discover how to make the most of digital transformation by using laboratory orchestration engines to create a truly connected ecosystem