Whether you record it or not, every single process within the lab generates data. From the quantities of reagents used to sample tracking, a vast wealth of information is available—giving deeper insights and enabling scientists to run more efficient workflows. But the data is only useful if it is accurately captured and stored.
When asked about their digital transformation plans, 77% of CEOs stated that they had been accelerated by the COVID-19 pandemic.[i] Yet many labs still operate the majority of their processes manually. Not only does this make it difficult to record all available data in real time, but it is time-consuming, error-prone, and hinders productivity.
A lab information management system, or a LIMS, allows you to manage your lab processes safely, efficiently, and digitally, unlocking the door to productivity and freeing up time so you can focus on the tasks that need your expertise. In our new four-part blog series, we explore why you should implement a LIMS in your lab, what factors you need to consider, and how to plan your implementation. This first installation introduces the benefits your lab can reap from a LIMS.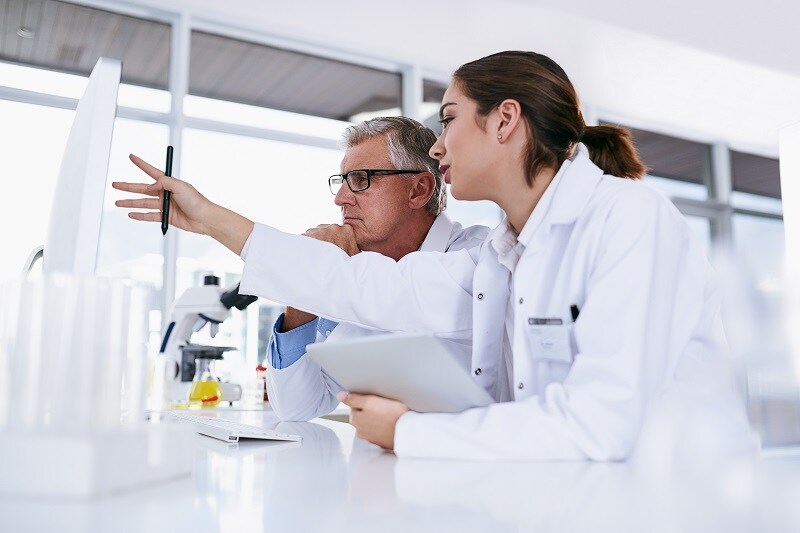 What are the benefits of implementing a LIMS?
Long gone are the days where a LIMS was just a sample-based tracking system. Now, the modern LIMS acts as a core member of your team, automating workflows and tracking all information generated by your lab. A LIMS also enables you to actively manage entire lab processes, even down to instrument maintenance. And, as it helps with standardization of workflows, a LIMS can even ensure your lab processes scale up in line with your business growth.
Let's look at three key benefits that implementing a LIMS can bring to your lab:
1.    Reduce manual work
Unnecessary manual lab operations and digital manipulations take up too much valuable time. With LIMS, you can spend less time tracking and recording data on paper, as it is all done automatically and digitally.
The software removes the possibility of human error from data logging, ensuring that it is more accurate. It is also easy to find and interpret your data using a LIMS, and metadata is searchable and reportable, so you can get the information you need faster.
2.    Enable more efficient monitoring
Lab efficiency can be significantly increased by real-time monitoring. LIMS can let you see the status of everything in your system—be it samples, workflow, or projects—so you can take the right action instantly. You can even set up schedules to optimize instrument usage and oversee their performance and any required maintenance.
Whether you're performing environmental monitoring or tracking raw materials through to finished products, you can collect data and track changes throughout the entire sample lifecycle with LIMS. What's more, a full audit trail of the sample actions is produced for greater clarity.
3.    Demonstrate regulatory compliance
For many labs, it is vital that you can show regulatory compliance and data integrity. A LIMS enables you to demonstrate complete sample traceability and data flow all the way from sample entry to data acquisition and final results. It can be easily configured to support compliance with a number of regulations, including:
GMP
GXP
ISO 17025
21 CFR Part 11
CAP/CLIA
Amongst other capabilities, a LIMS can help you securely manage all internal and external documents (with revision history), and maintain staff training records so only trained staff are assigned analytical tasks.
A digital solution for a more productive lab
Implementing a LIMS is the most critical step you can take to boost efficiencies within your lab. Regardless of your industry, a LIMS reduces manual work and improves your monitoring capabilities, all while enabling you to demonstrate regulatory compliance. With improved productivity and more time to innovate, what will your lab achieve?
Download our Guide to LIMS selection ebook to learn everything you need to consider when looking at a new or replacement LIMS.   Keep an eye out for the second blog in our series where we explore what capabilities are available with a LIMS, so you can understand how it will fit in with your lab's needs.
Keep an eye out for the second blog in our series where we explore what capabilities are available with a LIMS, so you can understand how it will fit in with your lab's needs.
[1] Kane GC, Phillips AN, Copulsky J, Nanda R. A case of acute disruption: Digital transformation through the lens of COVID-19. Deloitte. Insights. https://www2.deloitte.com/us/en/insights/topics/digital-transformation/digital-transformation-COVID-19.html. Published: August 6, 2020. Accessed: January 21, 2023.