Flame Ionization Detector (FID) technology is used in Toxic Vapor Analyzers to help detect gas leaks from refineries and chemical plants to comply with U.S. EPA Method 21 and LDAR programs. Hazardous pollutants, including volatile organic compounds, may result from leaks from process equipment. Method 21 notes that these sources include, but are not limited to, "valves, flanges and other connections, pumps and compressors, pressure relief devices, process drains, open-ended valves, pump and compressor seal system degassing vents, accumulator vessel vents, agitator seals, and access door seals."
Several of the compounds in these leaks may be irritating or corrosive to tissues (e.g., heptane) or may be toxic (e.g., benzene, methyl alcohol). Nearly all are fire hazards. Appropriate precautions should be taken around the potential sources of the leaks.
FIDs measure organic compounds by utilizing a flame produced by the combustion of hydrogen and air (see Figure 1–1). When hydrocarbons in the sample are introduced to the detection zone, ions are produced by the following reaction:
 RH + O → RHO+  + e–  → H2O + CO2
where:
R = carbon compound
A collector electrode with a polarizing voltage is also located within the detector chamber, and the ions produced by this reaction are attracted to it. As the ions migrate towards the collector, a current is produced which is directly proportional to the concentration of hydrocarbons introduced to the flame. This current is then amplified and sent to a microprocessor.
The FID has a wide dynamic range. The effective dynamic range can be further expanded by use of a dilutor kit which reduces very high volatile organic compound (VOC) concentrations to within the dynamic range (or even linear range) of the analyzer. The dilutor kit can also be used to enrich oxygen deficient samples by adding ambient air that is rich in oxygen (20.9% usually). Low oxygen can affect the characteristics of the hydrogen flame, causing readings to be artificially elevated and possibly extinguishing the flame.
As a general rule of thumb, greater than 16% oxygen is required to support the flame. If underground gases or samples in gas bags are to be measured by an FID, it is advised that a dilutor be used to combat the problem.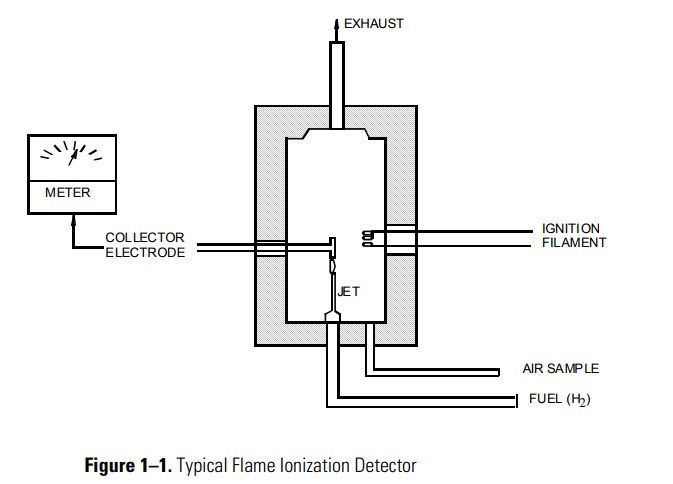 The advantage of using Flame Ionization Technology include:
Wide dynamic and linear range
High sensitivity to hydrocarbon vapors (including methane)
Very stable and repeatable response
Virtually unaffected by ambient levels of CO, CO2, and water vapor
When used in refineries and chemical plants, Toxic Vapor Analyzers that utilize FID technology can quickly identify health threats by detecting fugitive emissions of possibly toxic organic and inorganic compounds as needed for Method 21 compliance, LDAR applications and site remediation.  However, when analyzers utilize both FID and PID technology, more complete information about organic and inorganic vapors can be accessed more quickly and easily than with single detector technology alone.
We will cover Photoionization Detector (PID) technology in our next article.
Editor's Note:  Sign up for Fast5 enewsletter, for free gas analyzer and system tips and tricks