Mercury a naturally-occurring chemical element found in the earth's crust, (including in deposits of coal), becomes a problem for the environment when it it is released from rock and ends up in the atmosphere and in water. Mercury exposure at high levels is harmful to the environment and one's health.
According to the U.S. EPA, these releases can happen naturally. "Both volcanoes and forest fires send mercury into the atmosphere. Human activities, however, are responsible for much of the mercury that is released into the environment. The burning of coal, oil and wood as fuel can cause mercury to become airborne, as can burning wastes that contain mercury."
Because of industry regulations, waste incinerators, cement producers, and coal-fired and combustion power plants (which are a major source of mercury in the air) are utilizing the latest technology to help monitor and reduce emissions, reduce public risk, and protect the environment.
According to the EPA Technology Transfer Network, Clearinghouse for Inventories & Emissions Factors, "Monitoring is a general term for on-going collection and use of measurement data or other information for assessing performance against a standard or status with respect to a specific requirement. With regards to air quality regulatory requirements, there are two basic types of monitoring with two different functions:
Ambient air quality monitoring collects and measures samples of ambient air pollutants to evaluate the status of the atmosphere as compared to clean air standards and historical information.


Stationary source emissions monitoring collects and uses measurement data (or other information) at individual stationary sources of emissions (i.e., facilities, manufacturing plants, processes, emissions control device performance, or to verify work practices).

Stationary source emissions monitoring is required to demonstrate that a source is meeting the requirements in Federal rules or in State rules that are part of a State Implementation Plan (SIP). Most monitoring that stationary sources must conduct is related to specific regulation resulting from the Clean Air Act (CAA)."
There is mercury monitoring technology currently available that helps measure elemental, ionic and total mercury in exhaust stacks from coal-fired boilers and waste incinerators. This technology (see diagram below) is based on the principle that Mercury (Hg) atoms absorb ultraviolet (UV) light at 254 nm, become excited, then decay back to the ground energy state, emitting (fluorescing) UV light at the same wavelength. Specifically, Hg +hv(254nm) -> Hg *-> Hg + hv(254nm). It is one of four major components of a total mercury monitoring system. The analyzer uses an advanced cold vapor atomic fluorescence technology to provide continuous sample measurement, with no additional gases or accumulations required and virtually no interference from SO2.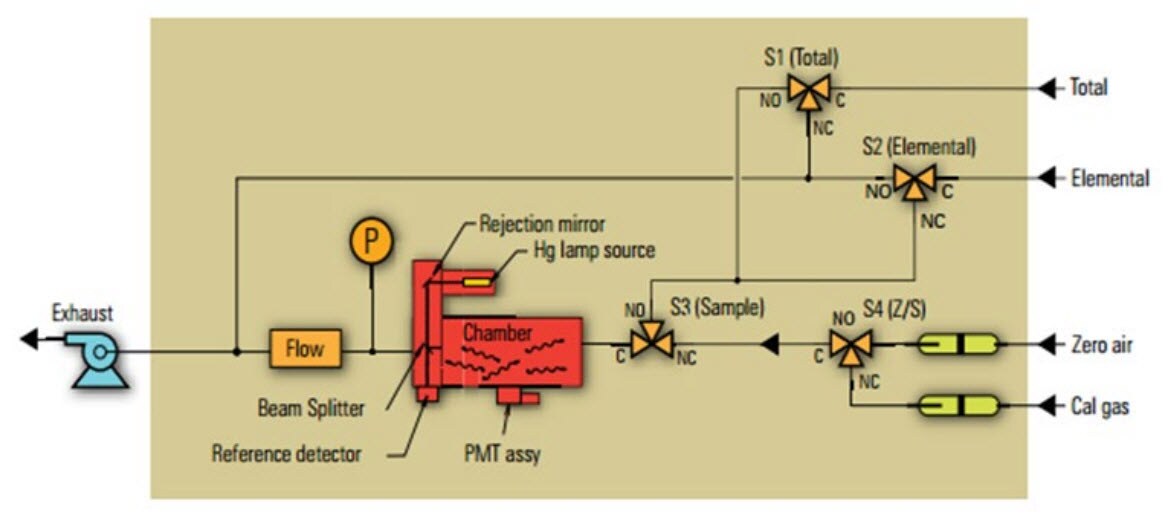 Read about Compliance Standards for the U.S. and Europe, learn who needs to monitor mercury emissions, and discover how mercury is monitored, in a free ebook we have published, "What You Need to Know About Mercury Emissions, Regulations, and Monitoring" Also be sure to subscribe to our mailing list to stay up-to-date on the topics that matter most to you and to receive news about the latest developments in mercury regulations in your region.
Download our free book "What You Need to Know About Mercury Emissions, Regulations, and Monitoring"