A strong education in math and science is critical to our future. Yet numerous studies have shown that the number of students interested in pursuing careers in science, technology, engineering, and mathematics (STEM) isn't keeping pace with the demand.
To foster students' curiosity about science, we donated a new Thermo Scientific Phenom ProX Desktop Scanning Electron Microscope (SEM) to the Advanced Math & Science Academy (AMSA), a 6th-through 12th-grade charter school in Marlborough, Massachusetts. The first public institution in Massachusetts to house its own scanning electron microscope, AMSA unveiled the instrument at a celebration with community leaders on February 28.
Marlborough's mayor, Arthur Vigeant, was in attendance along with Dr. Scott Joray, AMSA Science Department Chair, Ellen Linzey, AMSA Interim Executive Director, and executives from Thermo Fisher Scientific including Trisha Rice, vice president and general manager of Materials Science and Michael Glass, vice president of Global Talent.
"Our goal is to foster excitement and passion about science, and this new electron microscope will help expand students' curiosity about the world around them," said Dr. Joray at AMSA. "Our new Phenom ProX will help our students broaden their knowledge and prepare them for the future."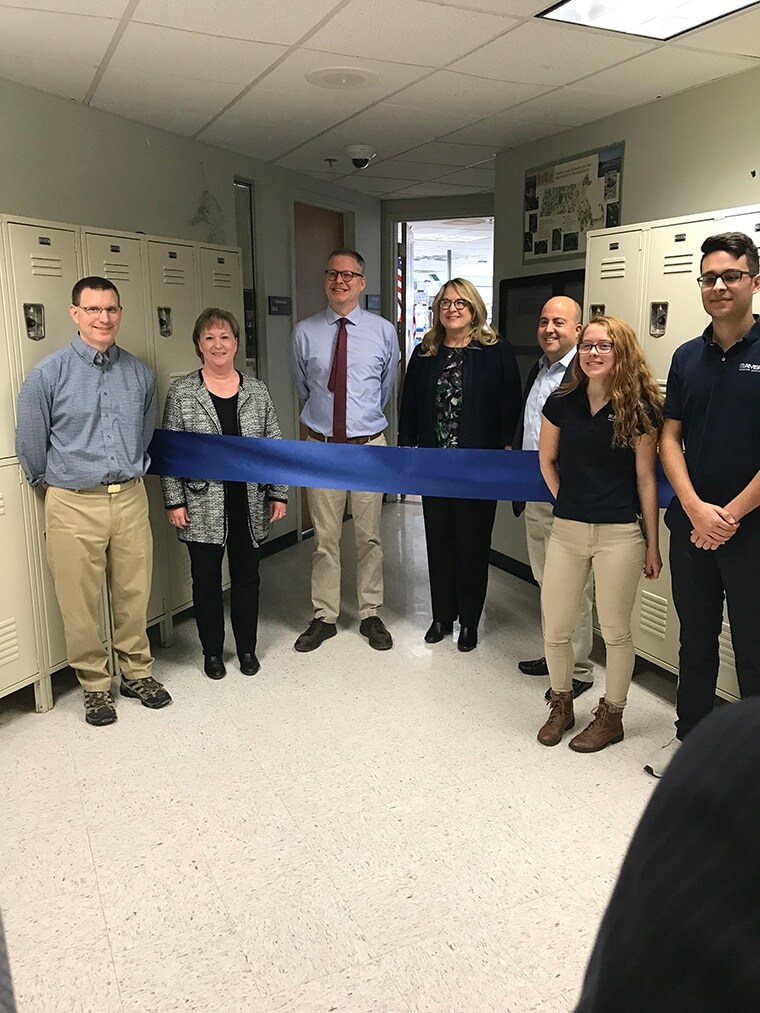 AMSA and Thermo Fisher executives prepare to cut the ribbon to the classroom that houses the Thermo Scientific Phenom ProX Desktop SEM. From left to right: Dr. Scott Joray, Ellen Linzey, Dr. Anders Lewis, Trisha Rice, Michael Glass, AMSA student.
"AMSA offers its students a world-class education, and we are excited to expand the opportunities for scientific exploration with the donation of a scanning electron microscope," said Trisha Rice, vice president and general manager, materials science, Thermo Fisher Scientific. "With the Phenom ProX, AMSA students now have a powerful and easy-to-use electron microscope to help them expand their understanding of how all kinds of materials impact our environment."
The Thermo Scientific Phenom ProX is a high-performance desktop SEM for imaging and analysis that will allow students to examine the elemental composition of their sample structures. In molecular biology, for example, students are currently studying a cancer marker gene in combination with a green fluorescent protein (GFP) reporter. With this instrument, students can now examine the cell under the microscope and better understand how the cells are structured and interact with one another. The microscopes are intuitive to use and quickly generate results, making them ideal for the AMSA students.
"We can look at cells under the microscope [for our biochemistry research], but we also know the physics behind the machine. It's cool to see it all come together." – AMSA Student
Since its formation in 2005, AMSA has worked to build a leading-edge science education by offering an engaging environment that inspires students to learn. Because learning is experiential, students are allowed to follow their own research projects based on specific areas of study.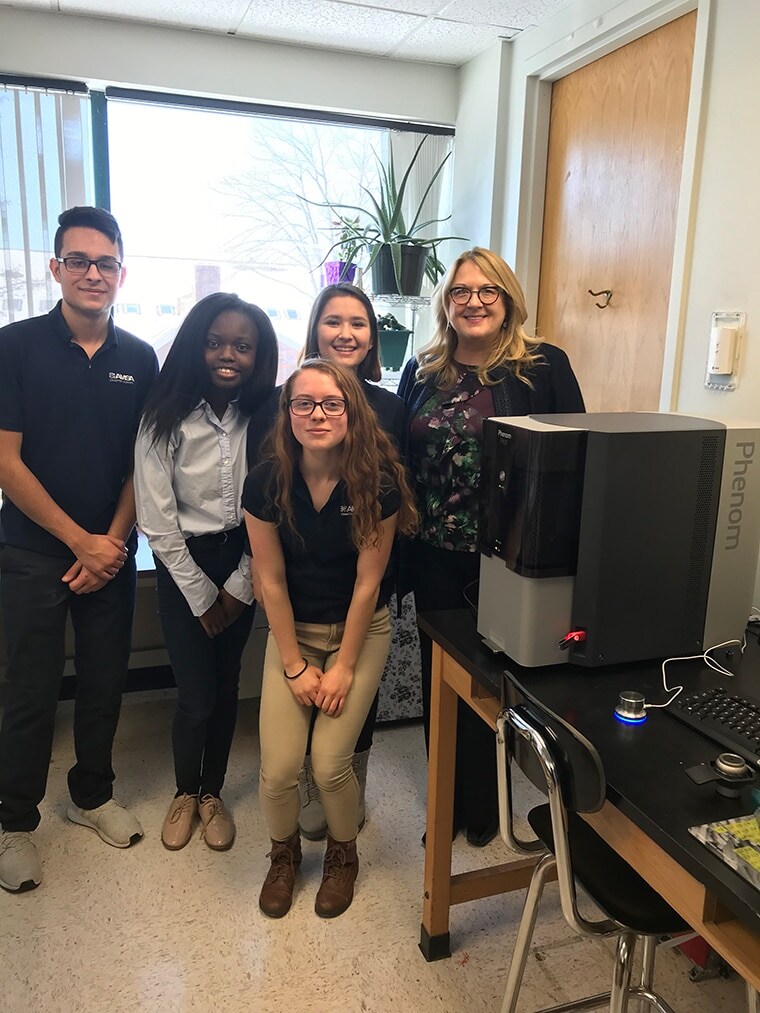 The new SEM at the Advanced Math & Science will help students expand their understanding of science and the world around them.
The addition of the Phenom ProX is expected to take immersive learning to the next level by allowing students to explore these and other areas in far greater detail than was previously possible.
"Thermo Fisher has given our students an opportunity to learn things that they wouldn't in any other way…. This is one of the greatest gifts I can imagine, giving our students vision and future and a way to dream in ways they could have never imagined." – Ellen Linzey, AMSA Interim Executive Director
We'll follow the students as their research advances throughout the year, so check back for updates on their progress.
To learn more about microscopy, fill out this form to speak with an expert.