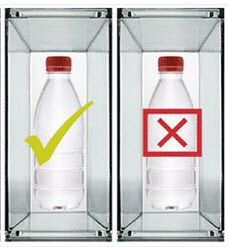 Editor's Note:  During the month of February, we are addressing problems that you may find when you are analyzing polymers for product quality assurance and quality control verification, failure analysis, deformulation, or product development.  There are a variety of molecular spectroscopy techniques and applications that can help in your analysis — from Near Infrared (NIR) technology, Fourier Transform Infrared Spectroscopy (FTIR) and Fluorescence, to Raman and Ultraviolet-Visible and Visible Spectrometry. But if your sample is especially challenging, your first step might be to analyze the problem itself. 
Here's the second article that identifies three plastic and polymer problems, suggests how to analyze the sample, and then recommends some spectroscopy solutions to help your analysis. 
Symptom 4:  Inclusions, De-Lamination, Fish Eyes
Poor processing or contamination can cause inclusions, de-lamination, and fish eyes.  To measure the sample, isolate included contaminants, then do a sample cross-sectioning to view the layers.  Perform microscopic analysis using FT-IR ≥5 μm and Dispersive Raman ≥1 μm. Identify the problem by searching libraries to discover the contamination and then change the process to avoid contamination. Use an Infrared Microscope with the ability to measure samples down to a few microns. A room temperature detector eliminates the need for liquid nitrogen for samples down to 50-microns. If you would rather use a Raman microscope, make sure it provides high-resolution depth profiling and subsurface analysis on transparent and semi opaque samples. A wide spectral range with measurements down to 50 cm-1 is of particular advantage for inorganics, which typically have bands at low frequencies.
Symptom 5:  Roughness, Speckles, Mars, Bubbles
Surface or embedded processing (trapped gas) could contaminate and cause a problem.  If roughness, speckles, mars, or bubbles result, you should isolate the surface or embedded material, then measure using single-bounce Diamond, ZnSe or Ge (for carbon-filled polymers) Attenuated total reflection (ATR). ATR allows you to quickly analyze polymer samples directly for identification or verification of bulk properties such as blend ratio.  Your data analysis plan should include searching libraries for identifying the unknown contamination and then changing the process to avoid contamination. An FT-IR Spectrometer with a diamond ATR accessory and an optical system that removes any tilt and shear scanning error, is recommended.  ATR crystal plates backed with a ZnSe focusing optic will bring optimal performance.
Symptom 6:  Brittle, Cracking, Weakness
Oxidation, degradation, contaminant, incorrect material could cause brittleness, cracks, and weakness.  Your sample testing plan for these symptoms should include excising the surface or inner material as well as measuring by single-bounce ATR.  To identify the problem, compare the sample to the reference part, identify unexpected components, and ensure the material is correct for conditions.  Change the formulation as needed.  Use an FT-IR Spectrometer complete infrared spectroscopy system  outfitted with an Attenuated Total Reflectance (ATR) sampling accessory, primarily designed for use with a single bounce diamond crystal, which is ideal for the analysis of solids, liquids, pastes and gels.
Visit our online polymer spectroscopy resource center to learn how you can analyze these and other polymer problems.