Active pharmaceutical ingredients
As pharmaceutical companies develop new drugs, they need efficient and compliant ways of measuring active pharmaceutical ingredients (APIs) to ensure the stability, uniformity, and bioavailability of pharmaceutical compounds.
Organic compounds, mostly consisting of light elements such as carbon or nitrogen, are widely used as APIs in the pharmaceutical industry and for other applications such as in the development of food dyes. Because APIs are often directly administered to humans for health treatment, there are specific quality control requirements.
Due to the low density of organic compounds, the absorption of X-rays in APIs is weak, making it possible to use transmission diffraction techniques for data acquisition. There are certain advantages of transmission compared to reflection measurements. Using reflection, the penetration depth of X-rays is high due to the weak absorption, which has a negative impact on both the position accuracy and resolution of the measurement. Additionally, the crystallographic structure of many organic compounds exhibits strong preferred orientation effects in reflection, an effect that is minimized using transmission diffraction techniques.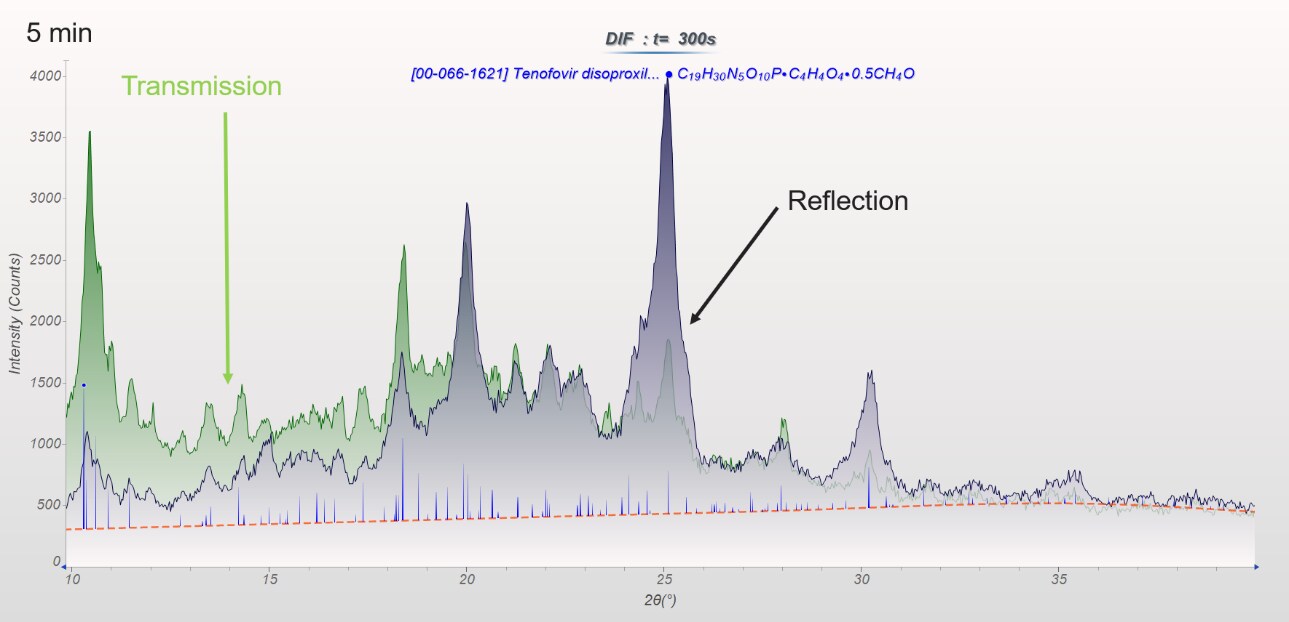 The preferred orientation of APIs has a strong influence on reflection intensities. The intensities of reflection measurements (black plot) do not match reference intensities (blue vertical indicators), but transmission data measurements (green plot) match reference intensities well.
X-ray diffraction analysis
Polymorphism in crystallography is a phenomenon in which the solid chemical form of a molecule exists in more than one crystalline structure. These forms differ somewhat in physical and, sometimes, chemical properties, although their solutions and vapors are identical. This has a strong effect on APIs, as their physiological effect can vary from polymorph to polymorph. Therefore, it's important to identify and control the polymorphic composition of APIs in pharmaceutical formulations. Thanks to its sensitivity to differences in the crystallographic structure, X-ray diffraction (XRD) analysis has emerged as the gold standard for the determination of polymorphism.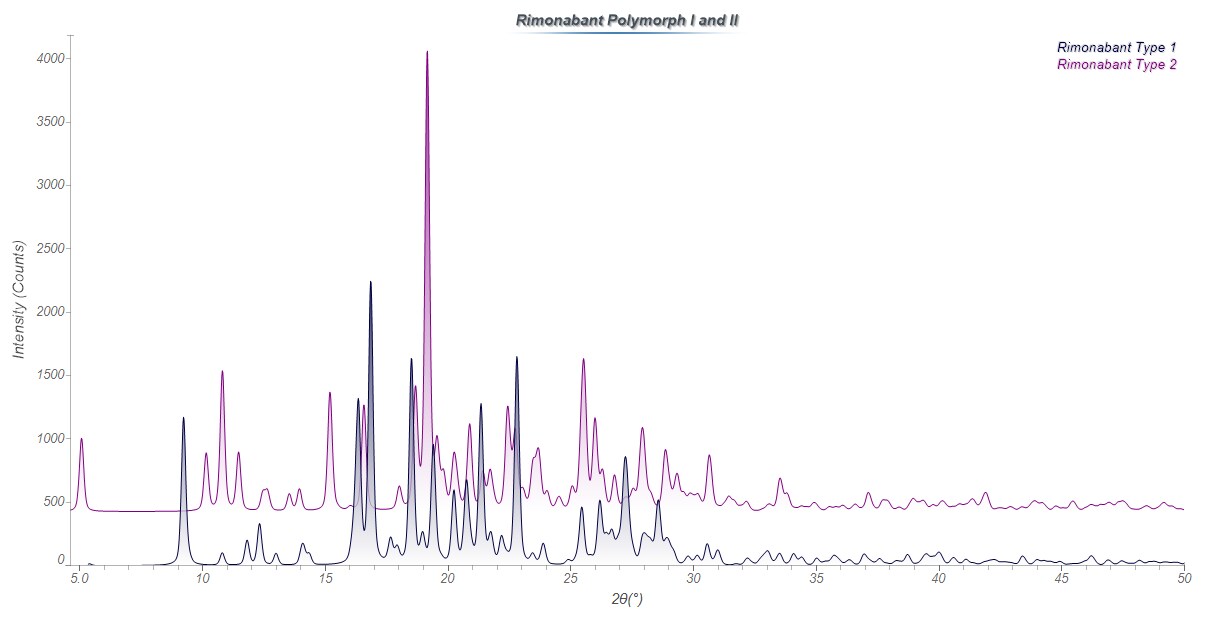 XRD pattern of Rimonabant Polymorphs I and II
Scientists and quality control managers need convenient and compliant tools to analyze their materials, and the Thermo Scientific ARL EQUINOX X-ray Diffractometer addresses these needs by expediting data collection compared to other options.
Thanks to the instrument's unique, curved position sensitive (CPS) detector, diffraction peaks are simultaneously measured in real time. The result is that researchers can determine the quality of pharmaceutical formulations—both in research labs and during the production process—in less than 10 minutes using transmission mode.
Due to its rugged design and the application of X-ray optics, the ARL EQUINOX Diffractometer is perfectly suited for both transmission and reflection measurements. Used together with the newly released Thermo Scientific SolstiX XRD Software with Security Suite, users can easily and conveniently comply with U.S. Food and Drug Administration's Title 21 CFR Part 11 regulations.
The ARL EQUINOX 100 Diffractometer uses a high flux X-ray source with very low power consumption that eliminates the need for an external water chiller or other peripheral equipment, making it the most energy-efficient XRD solution available. Moreover, the instrument offers convenient and flexible API analysis for both novice and experienced users, without damaging the sample.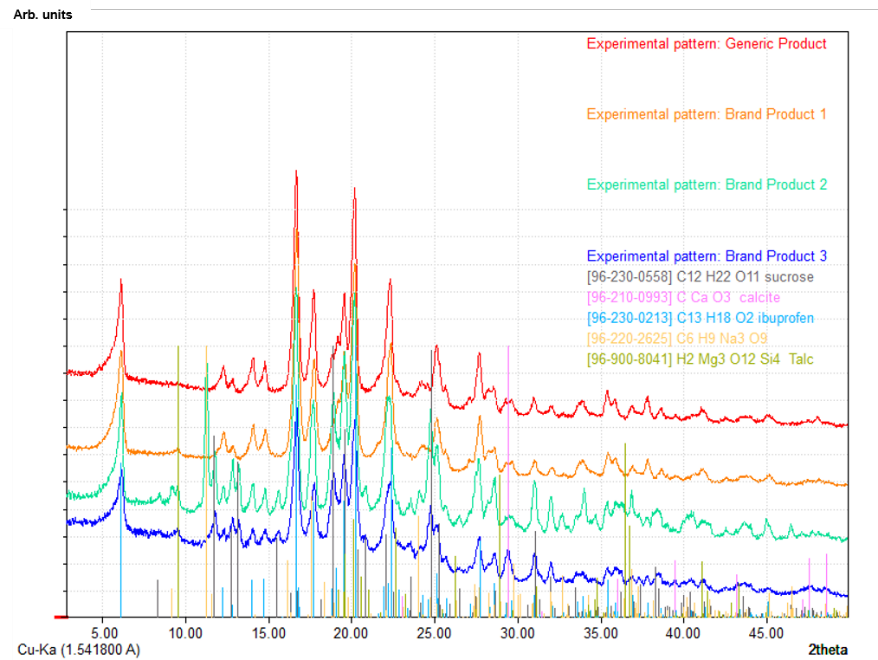 Analysis of several Ibuprofen formulations in transmission mode (EQUINOX 100)
Analysis of active pharmaceutical ingredients
Using the ARL EQUINOX Diffractometer for their X-ray diffraction analysis needs, pharmaceutical companies can easily characterize different physio-chemical properties of active pharmaceutical ingredients throughout the drug development pipeline. With the ability to meet compliance requirements while quickly and accurately confirming the quality of APIs, pharmaceutical companies can improve their pharmaceutical formulations as the demand for safer and more effective drugs continues to grow.
Learn more about X-ray diffraction analysis at the Thermo Scientific XRD Academy. Also, see how SolstiX XRD Software with Security Suite enables 21 CFR Part 11 compliancy.
Dr. Simon Welzmiller is a Global Application Specialist XRD at Thermo Fisher Scientific.
 ///
Subscribe now to receive Advancing Materials updates straight to your inbox.