Managing an electron microscopy facility
For today's busy university labs, keeping their electron microscopy facility up-and-running is key to maximizing research productivity—and Dr. Chris Winkler's job is to do just that.
As TEM lab manager of the Analytical Instrumentation Facility at North Carolina State University, Dr. Winkler trains users, analyzes samples and manages the day-to-day operations of transmission electron microscopes (TEMs) for the university's state-of-the-art materials characterization research.
"I love working with users, learning about their research, and helping them achieve the best data possible," he says. "There are always tricks and techniques you can teach users to help make their lives easier, and it's especially rewarding when you introduce users to an alternative method of accomplishing their research."
Dr. Winkler's electron microscopy lab focuses on nearly every field of materials research from polymer development to materials for the International Thermonuclear Experimental Reactor. This cutting-edge work is powered by several Thermo Fisher Scientific instruments including scanning and transmission electron microscopes ([S]TEMs), such as the Thermo Scientific Talos F200X TEM, focused ion beam scanning electron microscopes (FIB-SEMs), energy dispersive X-ray spectroscopy (EDS), electron energy loss spectroscopy (EELS), and TEM instruments.
"We spend a lot of time and effort training new users, and the Talos is almost always the starting point for their journey," says Dr. Winkler. "It's the perfect introduction because it's easy to use, easy to align, and a great teaching tool since it does almost everything including TEM, (S)TEM, EDS, EELS, and diffraction. Some users just need to use the TEM as a fancy digital camera and some users will spend years advancing the theory behind (S)TEM, so the microscope needs to do it all while still being user friendly."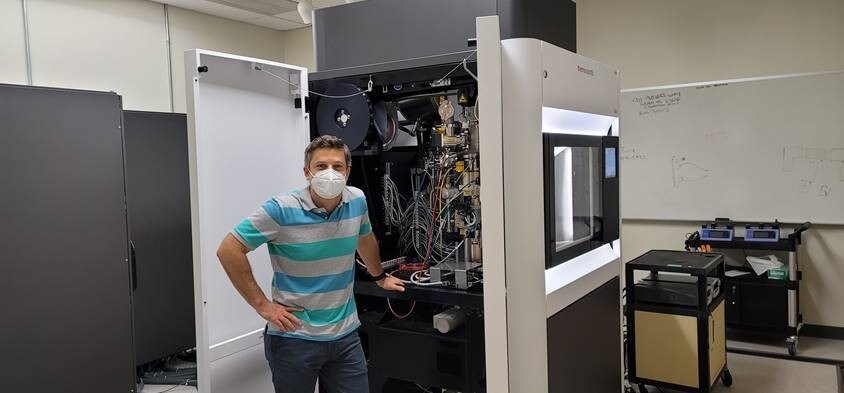 Dr. Chris Winkler, the TEM lab manager at North Carolina State University, turns to Thermo Fisher Scientific's remote support services to maximize the uptime and performance of the university's TEM instruments.
Transmission electron microscopy lab support
To support his electron microscopy facility, Dr. Winkler turns to our Connected Care services, which supports customers through a variety of methods including phone support, remote troubleshooting and on-site service.
"The remote service is incredible," he says. "You can call or email the main service center and get a call back from a remote engineer in minutes. I've had several experiences with the remote engineers where they will spend hours on the phone with you, even asking you to video chat so they can see what you're seeing as they troubleshoot hardware and software."
Among the benefits of Connected Care services is that it has minimized TEM instrument downtime, while keeping research projects on schedule. "Our most recent interaction was with a senior field service engineer who spent several hours helping me restore the software on our Talos touchscreen to keep it running," Dr. Winkler says. "Marking the Talos as down means dozens of users are suddenly scrambling to reschedule, and it's generally just a mess, so his heroic efforts to guide me through the software restoration process was just amazing."
What attracted him to managing a TEM lab? Dr. Winkler says his "infatuation with all things (S)TEM" began as an undergraduate at Rice University and continues to this day. "The ability to resolve atoms is what draws all of us in," he says. "It's amazing to be able to look at the fundamental building blocks of all matter with (S)TEMs. It never gets old and, with all the developments realized in the last 20 years, it only gets more thrilling."
To learn more, please see Thermo Fisher Scientific's Electron Microscope Remote Service and Support webpage.
Lynette Brown is a Services Marketing Manager at Thermo Fisher Scientific.
//