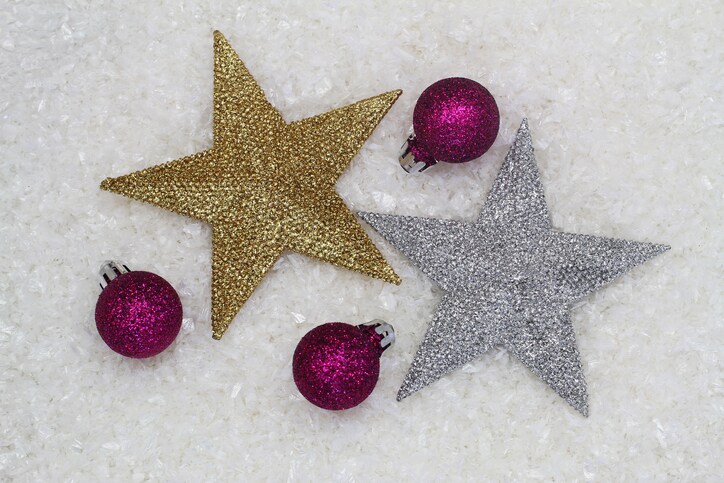 Silver and gold decorations can be seen everywhere during the holiday season — even right here in this blog. Here are some of our past articles related to those precious metals:
Is There Any Such Thing as Black Gold? Article discusses ways gold can appear black, including oxidation, blackening, black enamel, and black rhodium plating.
How Gold Plating is Done, Step by Step.

A Santa Barbara jeweler specializing in custom jewelry design and jewelry repair, described gold plating and its best practices. In this article, she describes the step-by-step process.

Platinum-gold Alloy Gives High-strength Steel a Run for its Money.

A metal's ability to withstand friction is believed to be based on how hard it is, but the Sandia team theorized that wear is related to how metals react to heat, not their hardness, and they handpicked metals, proportions, and a fabrication process that could prove their theory.

JCK Show Abounds in Colorful Jewelry and Gold.

Rainbow jewelry and multi-hued gemstones featuring three or more differently colored gems had an elevated presence at the show. Multicolor, luminescent opals and colorful enamel-coated jewelry were also big standouts. However, gold and precious metals were still aplenty.

According to the JCK website, chunky gold cuff bracelets and statement earrings and necklaces, both in solid form and in gold-plated base metals were also in big supply.

Can You Shovel Silver (Coins) Off the Ground in Nevada?

It sounds ridiculous, but it was true. According to

State Symbols USA

, the "nickname for Nevada is The Silver State, dating from the Nevada silver rush days of the mid 1800's. At that time silver was literally shoveled off the ground in Nevada; heavy gray crusts of silver had formed on the surface of the desert over millions of years and were polished by dust and wind to the dull luster of a cow horn (called 'horn silver'). A big silver bed could be tens of meters wide and more than a kilometer long."

Reflecting on Silver: an Infographic.

Learn about this much utilized, highly malleable, reflective, and ductile metal in one glance.

White Gold vs. Platinum: Can You See the Difference?

Throughout history, gold has always been prized as a symbol of wealth, but platinum is, currently, more valuable than gold. Read about the differences.



Read and enjoy a shiny holiday season.