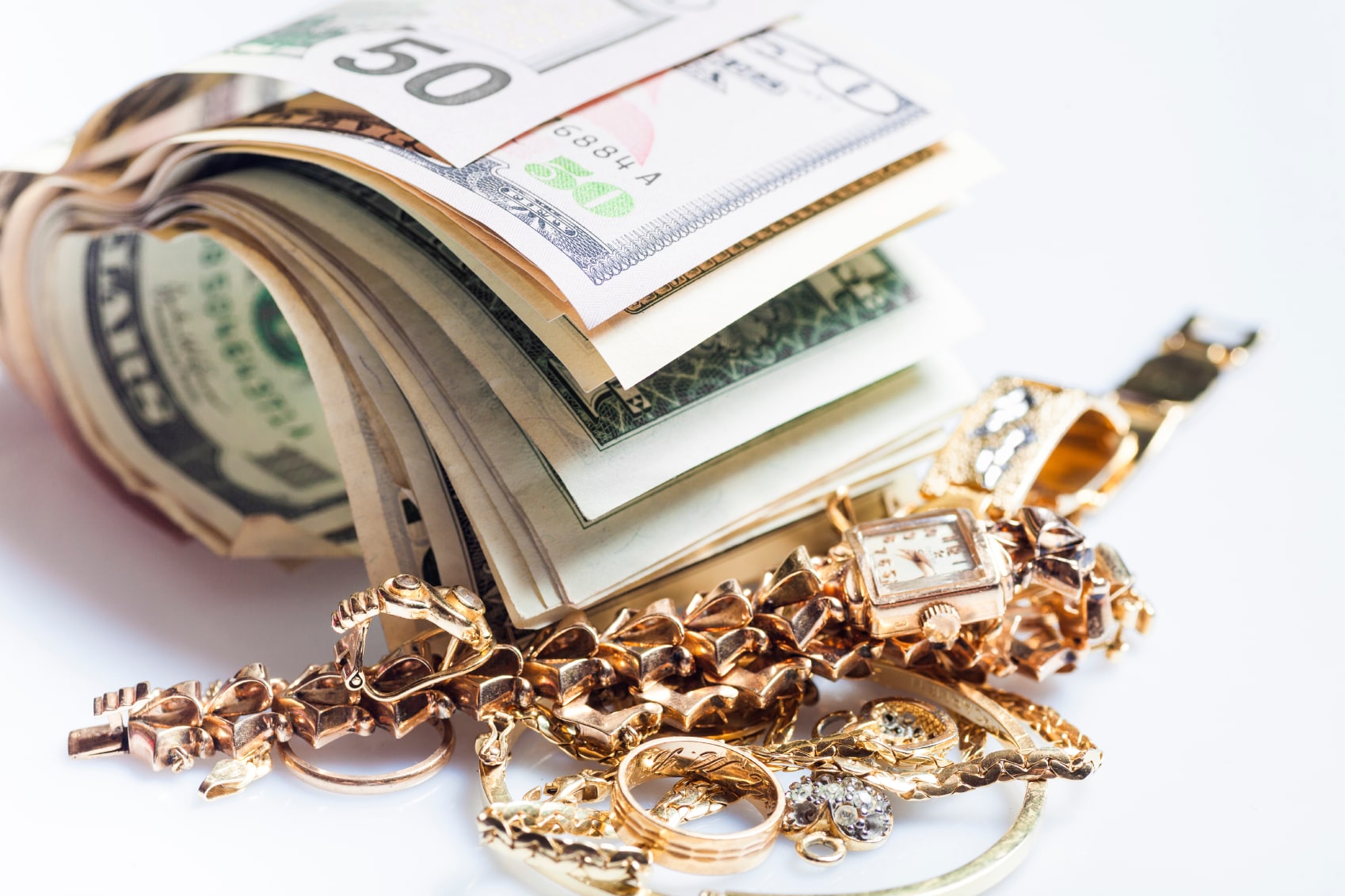 Trading cash for jewelry made of gold and other precious metals is still popular. One can see 'cash-for-gold' signs at popular jewelry stores and pawn shops; and gold recyclers are happy to take it.
But after the old jewelry has been turned over to cash-for-gold operations, what happens to all that gold?  Because the pieces are usually outdated or broken, pawn shops and jewelry stores usually send all that 'scrap gold' to a gold recycler, or refiner, who melts it all down.
However, much to one's surprise, it might not be all gold.  After the refiner gets it, the gold purity must be calculated because some of the scrapped materials may be alloyed metals. The U.S. Department of Energy Jefferson Lab explains that "Pure gold is soft and is usually alloyed with other metals, such as silver, copper, platinum or palladium, to increase its strength. Gold alloys are used to make jewelry, decorative items, dental fillings and coins. The amount of gold in an alloy is measured with a unit called a karat. One karat is equal to one part in twenty-four, so an 18 karat gold ring contains 18 parts pure gold and 6 parts alloy material."
White gold gets its silvery hue by being alloyed with white metals such as silver, nickel, manganese, platinum, or palladium. It is also usually coated in rhodium plating that must be replaced periodically. According to jewelry expert (recently retired) Calla Gold, rhodium is also often used on varying gold jewelry pieces because the rhodium makes an excellent plating material and causes jewelry to 'pop!'
However, Calla notes: "White gold is alloyed with white metals to give it a white appearance. But it is not completely white because of the presence of yellow gold in its make-up. Rhodium is a very white and bright metal in the platinum metals group. Because it is so tiny a molecule or so fine a metal it lends itself to the plating process. When a jeweler finishes creating a ring or other jewelry item out of white gold the finishing touch is to plate it with white rhodium. This enhances the white color of the ring. White gold is still white and will never turn the color of yellow gold, but it can get a tinge of yellow especially if there is nickel in the alloy. Over time nickel which starts out white can get more yellow, perhaps as it oxidizes. The short wrap-up here is that white gold will not revert to a yellow gold like 14kt yellow gold. It can however look dowdy over time and need the help of its friend, rhodium."
Speaking of plating material, a great deal of jewelry is made with just a layer of gold on the surface over another type of metal underneath. Gold vermeil jewelry uses sterling silver which has been gold plated. According to this Jewelry Notes online magazine article, "Gold vermeil can be made with gold of varying purity, but in the U.S., there is a minimum requirement: To be considered vermeil, a piece needs to be plated with gold that is at least 10 karats (which corresponds to approximately 42% gold content). Further, U.S. regulations state that an item cannot be sold as vermeil unless its gold plating is at least 2.5 microns thick (0.0025 millimeters). Gold-filled jewelry uses a base metal like nickel or brass with gold bonded to it, and gold-plated jewelry uses a base metal, such as copper or nickel, which is then electroplated with gold. For gold-plated items, their plating can vary in thickness, and no minimum value needs to be met for a piece of jewelry to be sold as gold plated. The karat number of a gold-filled piece refers to the purity of the gold sheet that is wrapped around the base metal.
The problem with trying to cash in these jewelry pieces, however, is that these other alloying elements are not as valuable as gold, so the refiners need to separate them out and then evaluate just how much that heap of gold, other precious metals, and alloy materials is actually worth. (Hopefully the store operator who analyzed the jewelry pieces used an XRF precious metals analyzer to ensure the right value was assigned to the piece before giving out any cash to the customer.)
Assessing the Gold
In order to assess the purity of precious metals, many of the metal refining businesses use fire assay to separate the gold from all the other metals in a given piece of jewelry and then evaluate the materials.  Although the gold is retained at the end of the process, fire assay is a destructive method that requires the removal of a small sample from the jewelry item, so it is best used for jewelry intended to be scrapped and melted, not for gold analysis and evaluation of the actual jewelry piece.
This assay method is an industry standard analytical process that requires many steps. The sample is weighed and mixed with a flux (such as soda ash or borax) and lead (or silver) in a crucible. The flux reduces the melting temperature while the lead acts as a collector material. The sample is then heated and melted at a temperature range of 1000°C-1200°C, at which point the precious metals are collected by the molten lead and settle at the bottom of the crucible as a "lead button," leaving behind the base metals and other impurities in the slag.
Upon cooling, the lead button is separated from the slag and is placed into a refractory-made porous cup ("cupel") and heated in a cupellation furnace. During this step the lead is absorbed into the cupel's pores, leaving behind a precious metal bead ("prill"). To determine the gold content, the bead is dissolved in nitric acid, separating the gold from silver, or as an alternative, the bead can be dissolved in a mixture of hydrochloric and nitric acids ("aqua regia"). In the latter case the gold content can be determined by using one of several analytical methods: Atomic Absorption Spectroscopy (AAS), Inductively Coupled Plasma – Mass Spectrometry (ICP-MS), and Inductively Coupled Plasma-Atomic Emission Spectrometry. (ICP-AES).
While fire assay is widely used and considered to be one of the most accurate methods to determine the gold content in jewelry, as you can see, it requires multiple preparation and processing steps. The method's reliability and accuracy can only then be guaranteed if these steps are carried out meticulously by skilled operators. Any slight procedural deviations in the course of the fire assay can accumulate to a significant error, as reported in a case study involving two refineries and one sample of gold.
There are companies that have reduced the assay process time to less than an hour.  In fact, we know of one company who will come to you and do the fire assay processing and testing in their armored vehicle, on the spot while you watch.  You can even witness the confirmation of the purity of your gold with their XRF analyzer.  (Watch their YouTube video.)
After the sorting out of the gold and other alloys, the resulting materials can then be sold as recycled metals, and re-used, and possibly made into the next piece of jewelry on your store shelf.
Editor's Note:  This article was originally published April 14, 2016, and authored by Jonathan Margalit.  However, it has been refreshed and updated with information provided by Calla Gold.