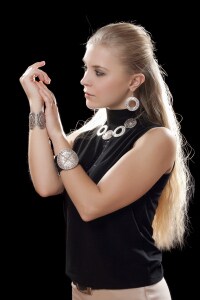 Recently I was asked the question: What wastages / substances (which I'll refer to as impurities) should be avoided when recycling silver because they could bring quality problems when casting final precious metal products?  Of course, each situation is different and elements in silver-based alloys can vary, but the below answer may be helpful to those looking for general reasons for casting problems.
The person asking the question (via social media) was a manager at a luxury goods and jewelry company and was concerned about her final product being sterling silver. "We do the same process of casting jewelries for both recycled and non-recycled silver.  But since we started using recycled silver (99.99%), we have quality problems that we didn't have when using non-recycled silver of the same purity. As wastages can be so different — from electronics, to films, etc. — of course we think it may be a contamination that affects the quality. Can you explain why the recycled silver scraps get better and better quality after each refining, but quite often the first casting has problems."
Various Contaminants May Be Unknowingly Introduced into the Melt
I answered that she had correctly guessed that the incorporation of recycled silver into the making of jewelry may bring with it an unknown, in the form of contaminants. Depending on the origin of the recycled silver, various contaminants may be unknowingly introduced into the melt, thus affecting not only the properties of the melt itself (such as its melting temperature) and the solidification process, but also the properties of the end-product, the jewelry item.
As she mentioned, electronics and films are possible origins of the recycled silver; in such cases one is likely to encounter elements such as indium (In), antimony (Sb), gallium (Ga), lead (Pb), tin (Sn), aluminum (Al), copper (Cu), cadmium (Cd), and others. Besides the fact that some of these elements are considered toxic, they are most likely going to influence the end-product's properties, such as appearance, mechanical-strength, and chemical resistance, in an uncontrolled manner.
XRF Technology Can Help Identify Elements in the Melt
Luckily, there are ways to mitigate some of the risks associated with contaminants in the melt. With the help of portable x-ray fluorescence (XRF) analysis, these and many other elements can be identified and quantified at the various stages of your jewelry production steps (from raw material acceptance, to characterization of the re-melts, and final product quality control).
When a silver sample is measured using XRF technology, each element present in the sample emits its own unique fluorescent x-rays, when illuminated by primary x-rays.  By simultaneously measuring the fluorescent x-rays emitted by the different elements in the sample, XRF analyzers can rapidly determine those elements present in the sample and their relative concentrations — in other words, the elemental composition of the sample —typically in seconds.
Another reader and jewelry designer offered her own experience: "We melted sterling silver scraps in casting class and they worked fine. My instructor said that the next time I reused these cast items, some uncast silver should be added because you can't keeping using them repeatedly without adding some new."
Let us know if you have any other questions about your precious metals products being less than sterling.