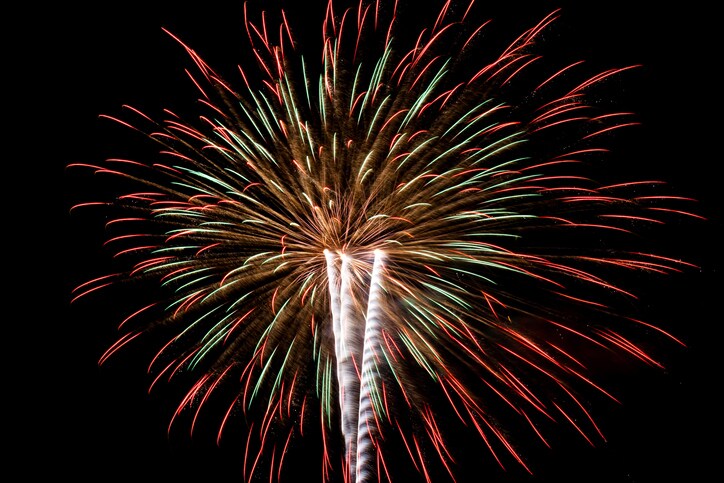 July 4th celebrations are usually filled with color, sparkle, and glitter as Americans celebrate the Independence Day holiday. However, most people do not know that there are actually many metals in those fireworks and sparklers.
When it comes to fireworks, metals are a key component in their beauty and booms. Here are some metals used in fireworks:
Aluminum, which is used extensively in aircraft, automobiles, and appliances to make them lighter, is used in fireworks to produce bright flashes and loud bangs. Aluminum is a non-ferrous metal and the second most plentiful metallic element on earth. It is lightweight, easily formed, and highly conductive.
Copper, which has been key in the modern age, is being used extensively in energy-efficient products. Copper, along with other nonferrous metals including aluminum, nickel, and tin, doesn't lose any of its chemical or physical properties during the recycling process, which means it can be recycled indefinitely. It's very alloy-friendly as well.  And it's also the element that makes the blue color in fireworks.
From the Greek phrase "a metal not found alone," antimony is a silvery, lustrous grey semi-metallic toxic element used to create firework glitter effects.  Yet it is also used in tracer bullets, cable sheathing, batteries, and semi-conductor technology.
Sparklers utilize similar metals.  A commonly used metal powder fuel to create flash powder and silvery-white sparkling effects in sparklers is aluminum (Al).  However, iron filings and powdered metals are used for the color. Aluminum, titanium, and magnesium are known to give near brilliant white sparks, while iron produces orange sparks (no surprise when you think about the color of rusted iron). When iron and titanium are alloyed (ferrotitanium), yellow-gold sparks are produced. (However, those pretty little pieces of metal can burn at 2,000 degrees Fahrenheit so precautions have to be taken.)
Take a look at this infographic to find out 9 Fast Facts About Fireworks and the metals used to make them look spectacular!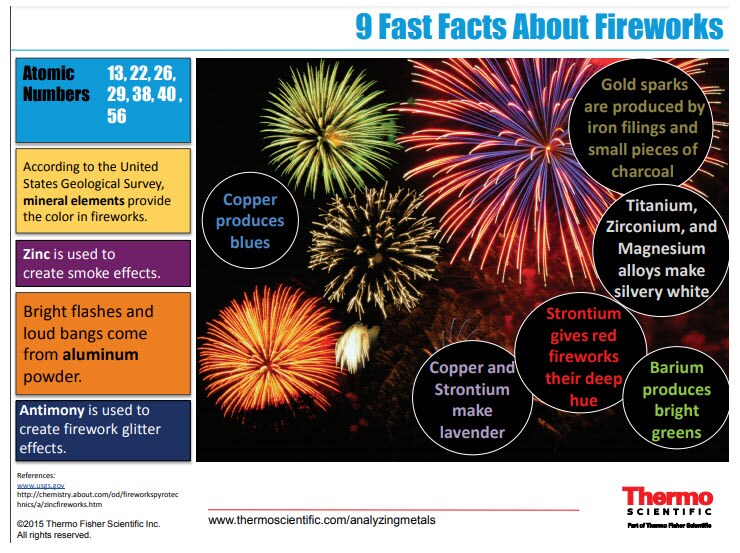 However, please leave the fireworks to the professionals. In 2021, a report by the U.S. Consumer Product Safety Commission (CPSC) found a significant upward trend in fireworks-related injuries. "Between 2006 and 2021, injuries with fireworks climbed 25% in the U.S., according to CPSC estimates. [In 2020] at least nine people died, and an estimated 11,500 were injured in incidents involving fireworks."
To help ensure safety, the CPSC "enforces its fireworks regulations under the Federal Hazardous Substances Act (FHSA), 15 U.S.C. §1261. It is a violation of Federal law to import, distribute or sell fireworks that violate CPSC regulations. …All fireworks device intended or sold to consumers except for firecrackers must meet the performance requirements located at Title 16, Part 1507 of the Code of Federal Regulations."
The CPSC also offers these tips to celebrate safely and help ensure watching fireworks is an enjoyable experience:
Tips to Celebrate Safely
Never allow young children to play with or ignite fireworks, including sparklers. Sparklers burn at temperatures of about 2,000 degrees Fahrenheit—hot enough to melt some metals.
Keep a bucket of water or a garden hose handy, in case of fire or other mishap. 
Light fireworks one at a time, then move quickly away from the fireworks device. 
Never try to relight or handle malfunctioning fireworks. Soak them with water and throw them away.
Never place any part of your body directly over a fireworks device when lighting the fuse. Move to a safe distance immediately after lighting fireworks.
Never point or throw fireworks (including sparklers) at anyone.
After fireworks complete their burning, to prevent a trash fire, douse the spent device with plenty of water from a bucket or hose before discarding the device.
Make sure fireworks are legal in your area, and only purchase and set off fireworks that are labeled for consumer (not professional) use.
Never use fireworks while impaired by alcohol or drugs.
       For more fireworks safety tips, visit www.cpsc.gov.
Enjoy but respect these metals; we want everyone to have a safe and Happy 4th of July.
Editor's Note:  This article was originally published in June 2021 but has been refreshed and updated.