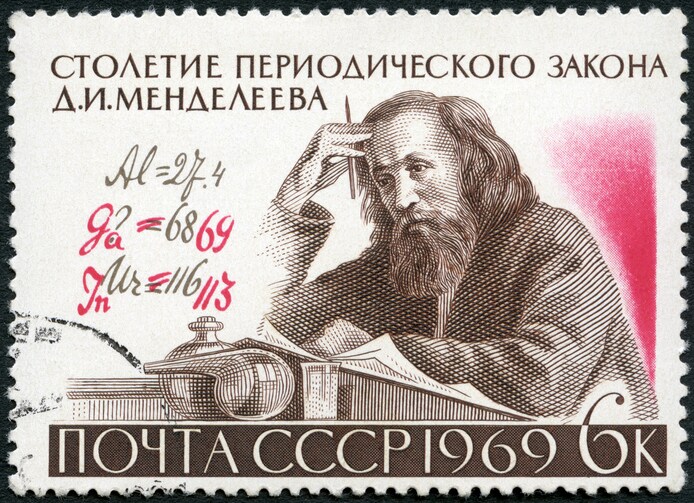 The Periodic System was developed in 1869 by Dmitri Mendeleev to predict the properties of matter based on similarities in chemical behavior.
The elements in the Periodic Table are arranged in increasing order of their atomic weight, which is the number of protons in the nucleus of an atom. This is known as the Atomic Number and is different for each element. Electrons in shells closest to the nucleus are most strongly bound to the atom. Binding energy increases with atomic number. The higher the number, the higher the weight.
If you look at the Periodic Table, you will also see that the number of electrons typically equals number of protons, so that the atom is neutral. The number of neutrons is variable and is what allows some atoms to have isotopes. Qualitative and quantitative techniques for determining the chemical and sometimes isotopic composition of a material can be termed elemental analysis and the Periodic Table can be used as a guide for the capabilities of different elemental analysis techniques.
The periodic table is a handy tool in the mining and minerals industry. At a quick glance you can see the name of the element, where it falls in the atomic mass group, its atomic number, and its abbreviation. While the Periodic Table has been a gold standard for more than 150 years, some scientists believe it can be improved. According to an article on Chemistry World, Scientists Zahed Allahyari and Artem Oganov are the latest to propose arranging the elements using a single linear sequence with the smallest change in properties between each successive pair.
Their approach, recently published in the Journal of Physical Chemistry, is to assign to each element a Mendeleev Number (MN) defined in terms of fundamental properties of the elements, which should then be possible to calculate for all elements at all conditions. This method will make it possible to predict which simple compounds will have similar characteristics, helping to identify new materials with useful properties.
"All previous MN schemes were empirical," says Oganov, and so become less reliable for data outside the set used to calculate them. "Our MN is non-empirical and should work equally well for any kind of data."
According to the Chemistry World article, Santiago Alvarez, an inorganic chemist at the University of Barcelona in Spain, says that approaches like this "could be useful for material discovery, because they enormously reduce the portion of the chemical space to be explored." He cautions that the current restriction to binary compounds is a serious limitation.
Elemental analysis is the basis of material characterization to ensure product chemistry specifications are met. X-Ray fluorescence technology is the gold-standard for accurate, nondestructive elemental analysis in a wide range of applications including cement, metals, mining, petroleum, chemicals, environmental and food. Handheld and portable XRF analyzers are routinely used for rapid quality control inspection and analysis to provide instant analysis in any field environment.
Resources: