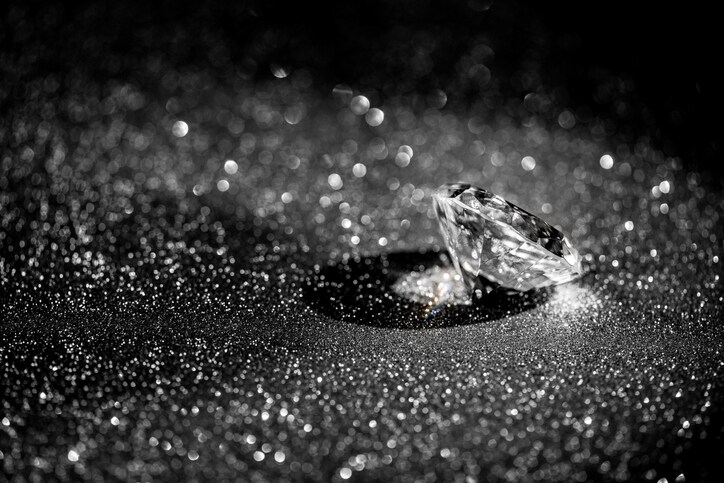 Diamond is the hardest substance on earth and has the highest thermal conductivity of any material at room temperature, qualities needed for numerous industrial purposes. 70% of mined diamonds, known as bort, are sold for industrial applications. Diamond is used as an abrasive in grinding, drilling, cutting, and polishing, and has proven to be more cost-effective compared to other abrasives in many industrial processes because it cuts faster and lasts longer.
Diamond also has chemical, electrical, optical, and thermal properties that make it ideal for wear- and corrosion-resistant coatings, special lenses for laser radiation equipment, heat sinks in electrical circuits, wire drawing, polishing silicon wafers and computer disk drives, and other applications.
Now researchers at The Australian National University (ANU) have found a valuable new application. A statement on the University web site explains that scientists from the ANU Research School of Chemistry have invented tiny diamond electronic parts that could outperform and be more durable than today's devices in high-radiation environments such as rocket engines, helping to reach the next frontier in space.
The team has developed a new type of ultra-thin transistor, which is a semiconductor widely used to amplify or switch electronic signals and electrical power in devices such as tablets, smart phones and laptops.
"Diamond is the perfect material to use in transistors that need to withstand cosmic ray bombardment in space or extreme heat within a car engine, in terms of performance and durability," said lead researcher Dr. Zongyou Yin.
"Diamond, by contrast to Silicon Carbide and Gallium Nitride, is a far superior material to use in transistors for these kinds of purposes. Using diamond for these high-energy applications in spacecraft and car engines will be an exciting advancement in the science of these technologies."
Dr. Yin said the team's diamond transistor was in the proof-of-concept stage.
ANU conducted this study in collaboration with the Massachusetts Institute of Technology in the United States and Technion-Israel Institute of Technology in Israel.  The study is published in Science Advances.
Natural diamonds, both gem and industrial quality, are the product of either open pit or underground mining, in which diamonds are contained in kimberlite pipes, or they are extracted from alluvial deposits in riverbeds, coastal, and undersea locations. Each scenario requires an efficient and streamlined mining process to recover the most diamonds in the most economical way. Miners determine if a kimberlite pipe is worth pursuing by conducting regional sampling schemes and airborne geophysical surveys in a precise search area. Once a list of the best targets is assembled, grade analysis is done to find out if the kimberlite is sufficiently diamondiferous.
Recommended reading to learn more about industrial and gem-quality diamonds:
Synthetic Industrial Diamonds Rule. Will the Jewelry Business Catch Up?
Diamonds: Not Always Hard to Find?
Industrial Diamonds – As Good as Gemstones, or Better?
Explore more aspects of mining, exploration, processing, and mineral analysis in the Cement, Coal, and Minerals Learning Center.