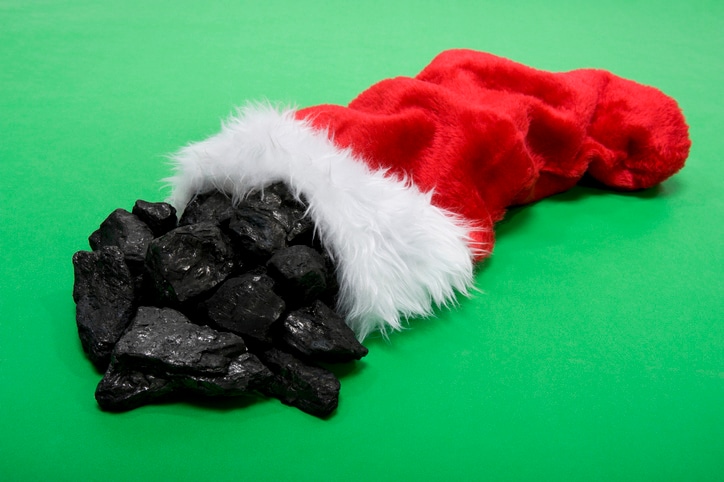 Exasperated parents have long threatened that coal would be the only presents found in the stockings of naughty children. But I'm sure many of our readers would find it a treat to know more about coal, so here is our gift of seven blog articles about coal mining, processing and analysis.
Working in the Coal Mine, Part 1. Alan Matta describes his trip to the inside of a coal mine near Youngstown, Pennsylvania. "

Due to the height of the mine, one has to ride virtually lying down in the mantrip with the ceiling about 8 inches above your nose. This particular mine extracts coal by using a continuous miner, which is also known as room and pillar mining."

Working in the Coal Mine, Part 2. This post recaps the events at a visit to a longwall mining operation. "

Unlike the coal mine visit, where we had to crawl in the mud to get to the working face, this trek was much easier on the body. We traveled 600 feet down via a large elevator and were able to ride fully upright the half mile trip into the working face of the mine."

What Should a Coal Analyzer Measure? And Why?.

In addition to carbon and oxygen, other major components should be measured during coal composition analysis. These include heating value, Lbs S02, volatile matter, fixed carbon, and ash fusion temperature. Knowing these measurements in real time enables coal producers to control sorting and blending of coals to maximize coal resources, meet quality specifications, reduce shipment variability, control ash fusion, and control preparation plant performance.

Is Your Coal Retaining Moisture?

Because coal originated in wetlands, it contains varying amounts of moisture that dictate how the coal will be used. Mining companies know that moisture content is critical to the coal's application and analyze moisture content to meet customer requirements.

Can XRF Quantify Trace Elements in Coal Applications?

Coal, similar to any other geological material, can contain trace elements such as antimony, arsenic, beryllium, cadmium, chromium, cobalt, copper, lead, manganese, molybdenum, nickel, vanadium, and zinc. Some of these trace elements are considered hazardous air pollutants.

The Risk of Coal Dust Inhalation.

Mining is a highly regulated industry requiring numerous tools and technologies to achieve compliance and keep operations running efficiently and profitably. The rule is meant to help decrease and eventually end black lung disease.

Case Study: Using Moisture Analyzers for Site Dust Management at Dalrymple Bay Coal Terminal.

Dalrymple Bay Coal Terminal manages 125 different types of coal, and each one has to be measured. Moisture measurement is a process control variable for optimum coal moisture control and dust suppression, so calibrations should be carefully done.
Visit our Coal Analysis Production Information page for more information.