By far, the most searched pages on the Cement/Coal/Minerals section of our website are the pages that relate to the cement manufacturing process.  So instead of your searching throughout our website for everything you need to know about improving cement manufacturing processes and production, we've put together a practical guide that you can download.
The ebook gives an overview of cement, the cement production and analysis  processes, and the basics about:
The quarry, and its role in mining the raw materials, which need to be measured and analyzed
The crusher and the role of pre-blending and moving
The raw mill and kiln, where adding, feeding, and heating are addressed
The clinker, and the role of grinding, cooling, and verifying to ensure the physical characteristics of cement are met.
Cement is a fine, soft, powdery-type substance made from a combination of calcium, silicon, aluminum, iron and other materials, including limestone, shells, gypsum, clay, blast furnace slag (known as fly ash), silica sand, and iron ore. Cement composition is based on customers' requests, each requiring a different elemental chemistry in recipe, and this can affect the various stages of cement production mentioned.
Because cement production requires a large facility, we've also addressed furnace efficiency and energy consumption and how emissions monitoring is critical to regulatory compliance.
For the technical, and not so technical, we've explained some of the various technologies used in the production of cement, including Prompt gamma neutron activation analysis (PGNAA), pulsed fast thermal neutron activation (PFTNA), and X-ray fluorescence (XRF).  Don't worry, there aren't too many details — just a broad overview and a video and infographics to give you a general idea of how the equipment works.
Speaking of equipment, we've outlined some of the products that are used in each of the processes, and offered a video or two on how they operate.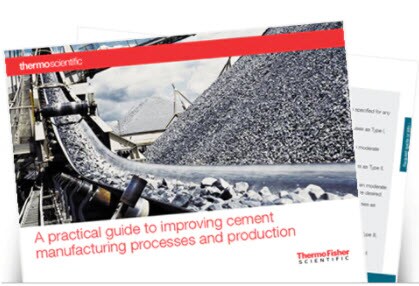 Learn some tips to improve product quality, boost efficiency, lower productions costs, and create safer, cleaner cement production lines. Download the free eBook, A Practical Guide to Improving Cement Manufacturing Processes and Production.