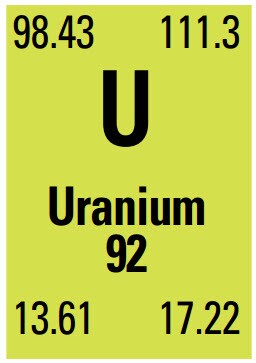 Uranium (U) is a well-known source of radioactive, concentrated energy most commonly used in the nuclear power industry to generate electricity. Uranium ore is mined in several ways: by open pit, underground, in-situ leaching (ISL), and borehole mining (by high pressure water jets). In-situ leaching, also known as in-situ recovery (ISR), is rapidly emerging as the leading method. According to the World Nuclear Association, in 2013, 47% uranium mining worldwide was done by ISR. This method accounts for most uranium mining in the U.S., Kazakhstan and Uzbekistan and also takes place in Australia, China, and Russia. As with many mining operations, there are environmental concerns regarding uranium mining by ISR. The U.S. EPA's Health and Environmental Protection Standards for Uranium and Thorium Mill Tailings (40 CFR 192) was issued in 1983 under the legal authority of the Uranium Mill Tailings Radiation Control Act of 1978 (UMTRCA) to address radiological and non-radiological hazards associated with uranium and thorium ore processing and their associated wastes. Last revised in 1995, the rule doesn't address ISR, which has since become the prominent method of uranium extraction in the U.S. and a potential source of groundwater contamination. On January 26, 2015, EPA proposed new ground water protection standards at facilities that extract uranium using the ISR process. The ISR Process Mining uranium by ISR involves injecting fluid into an ore-bearing zone to release the uranium. A step-by-step description can be found on the United States Nuclear Regulatory Commission (U.S.NRC) web site:
Specific provisions of the new EPA Subpart include:
Requirements to characterize background ground water chemistry
Requirements to meet restoration goals for 13 constituents
Requirements for long-term stability monitoring.
For more information about new regulations and guidelines concerning ISR mining of uranium, read Part 2 of this blog, coming up Thursday. There are additional methods of mining uranium and other applications for this heavy metal besides energy. Want to know more? Check out the uranium infographic.