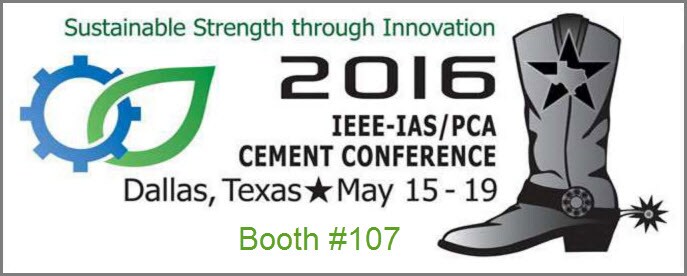 If you are in the cement business and are looking for the latest ideas in sustainability and technology, plan on attending this year's IEEE-IAS/PCA Cement Industry Technical Conference.  The Conference is promoted as North America's premier conference for the cement industry and is focused on the exchange of information, knowledge, technology and new developments in the cement industry.  Centered on the North American cement market, the conference provides an overview of business trends and includes technical paper presentations, educational tutorials, seminars, and even a plant tour.
A highlight of the annual conference is a detailed annual economic forecast presentation typically provided by the Chief Economist of the Portland Cement Association. The presentation is delivered at the beginning of the general conference meeting and provides both a short term and long term outlook on the economic conditions driving the cement industry with forecasts for industry growth. Typical attendees for the IEEE-IAS/PCA conference are upper level management and engineers from most major cement manufacturing organizations, mainly within North America; however international representatives are also present.
In addition to its usual professional development training programs, this year's Conference will offer a 10-module series of training called "Process Training" that is focused on the Cement Manufacturing process. These short trainings will cover topics ranging from the theoretical to the practical – such as kiln operations, coal safety, and grinding theory. According to the conference website, "While the focus of the overall training is specifically tailored to process engineers and production managers at the factory level, any given module may prove to have practical merits for any number of cement plant personnel – including cement chemists, purchasing managers, quality engineers, and aspiring plant managers."
If you fall into any of these categories, make sure you also stop by Booth 107. We'll be discussing how online elemental analyzers can monitor bulk materials being transported on a conveyor belt.  Online elemental analyzers use x-ray fluorescence (XRF) technology and can help improve cement quality, boost efficiency, lower production costs, reduce waste and create safer, cleaner production lines.
XRF analysis has become well established in the cement industry for elemental analysis as has X-Ray Diffraction (XRD) for the analysis of quartz in raw meal, free lime and key clinker phases (alite, belite, aluminate and ferrite). The implementation of these technologies in the cement industry helps facilitate control of kiln processes by providing information needed to continuously adjust parameters that stabilize the calcination and clinkerization process. Ask us about their special design which allows for simultaneous spectral acquisition of diffraction patterns as well as in situ crystal phase alterations during drying or temperature experimentations.  Our experts will be available to discuss these technologies and your QA/QC or R&D laboratory diffraction analysis requirements.
When you want to take a break from the technical training, take a walk around the resort, the convention center website is full of photos of the activities and amenities the resort offers.  The hotel overlooks the beautiful Grapevine Lake and offers a one-of-a-kind retreat with luxurious accommodations, climate-controlled glass atriums, first-class restaurants, eclectic shops and 4.5 acres of lush indoor gardens and winding waterways. It sounds like a wonderful place to relax after discussing cement all day.
Show Details
IEEE-IAS/PCA Cement Industry Technical Conference
May 15 – 19, 2016
Booth 107
Gaylord Texan Resort & Convention Center
Dallas, TX USA
Update: Visit the Cement Production center on our website, with free resources to help you optimize your cement making process.