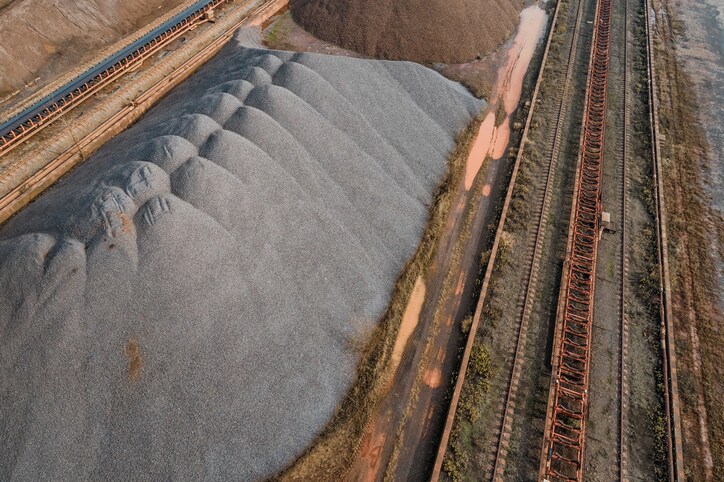 Sinter is the primary feed material for making iron in a blast furnace, and we have previously written about sintering and how it is a step between mining ore and steelmaking.
The only source of primary iron is iron ore, but before all that iron ore can be turned into steel, it must go through the sintering process. Sinter is created by mixing iron ore concentrate with several additives such as limestone and silica to control the chemistry and then igniting it at 1200°C in a continuous belt-fed furnace.
As noted in this EPA document:
The sintering process converts fine-sized raw materials, including iron ore, coke breeze, limestone, mill scale, and flue dust, into an agglomerated product, sinter, of suitable size for charging into the blast furnace. The raw materials are sometimes mixed with water to provide a cohesive matrix, and then placed on a continuous, travelling grate called the sinter strand. A burner hood, at the beginning of the sinter strand ignites the coke in the mixture, after which the combustion is self supporting and it provides sufficient heat, 1300 to 1480°C (2400 to 2700°F), to cause surface melting and agglomeration of the mix. On the underside of the sinter strand is a series of windboxes that draw combusted air down through the material bed into a common duct, leading to a gas cleaning device. The fused sinter is discharged at the end of the sinter strand, where it is crushed and screened. Undersize sinter is recycled to the mixing mill and back to the strand. The remaining sinter product is cooled in open air or in a circular cooler with water sprays or mechanical fans. The cooled sinter is crushed and screened for a final time, then the fines are recycled, and the product is sent to be charged to the blast furnaces. Generally, 2.3 Mg (2.5 tons) of raw materials, including water and fuel, are required to produce 0.9 Mg (1 ton) of product sinter.
Sinter feed composition control is important because the various sinter feed materials are not perfectly characterized and their chemical makeup varies within a batch and between batches. This could affect the iron and steel making process.  The production of high-quality sinter is crucial for assuring consistent, stable furnace productivity with a low consumption of reductants. Sinter quality begins with the proper selection and mixing of the raw materials. Inhomogeneous raw mix can affect permeability and cause an increase in fuel consumption. Sintering process fluctuations, inhomogeneous mixtures, and other parameters affect productivity, physical and metallurgical quality, and raw material consumption and costs.
We have gathered our sinter-related materials and placed them in one section of our website so you have easy access to resources that will help your operations achieve uniform sinter quality at low operational costs.  Here are a few examples:
Visit Iron Ore Sintering Process in Steel Manufacturing to learn more about the technology and products involved in the sintering process