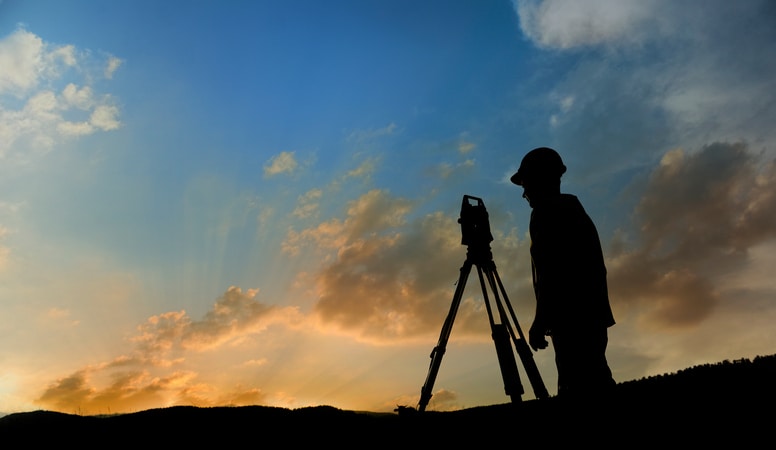 Editor's Note:  This article was originally written by one of our readers.  We included some additional information, but you can read about the author, below.
Land surveying is a process which adopts both onsite and offsite techniques to measure and map a predetermined area. There are many types of land surveys and each way has its own benefits. It is important to determine which type of survey will be useful to your situation as different forms of surveys are required for particular projects.  Mining surveying is of course crucial to mining operations;  however, environmental planning surveying is also critical.
Mining Survey
Often used to help find underground resources, as the name suggests, mining surveys are used to scope out potential mining locations. Using surveying minimizes the risk that potential mining sites may not contain resources. Mining surveys are also used to provide information about mine and tunnel dimensions. This important information greatly impacts the safety of miners and the industry.
In addition to surveying, mining geologists use portable XRF analyzers to perform ore grade control to figure out where the most profitable ore bodies are, in terms of location and mineral concentration variability. Ore deposits are inconsistent in nature, having high concentrations of metals in one area but much lower concentrations in others. Portable XRF instruments provide fast acquisition of geochemical data for ore deposit modeling, easily determining elemental constituents for most natural low concentration samples, as well as high grade ore concentrates. Ore-grade assessment helps manage blasting, excavation, and hauling activities, optimizing the site blend provided to the concentrator while preventing grade dilution or the erroneous transport of ore to the waste dump.
The data collected during the ore grade control processes helps mining geologists conduct quantitative geochemical analysis of metal concentrations. Geochemical maps can be used to see an anomaly or trend, make the most efficient and economical drilling and excavation decisions, and ensure that a mining plan will yield a sufficient return on investment.
Environmental Planning Survey
This is an important survey due to climate change and the ever changing environment. Environmental planning surveys are used to study and monitor important aspects including wildlife and nature. They are used to develop environmental impact statements and reports to view environmental changes over a given period of time.
Many land developers and mining companies perform environmental planning surveys to assure they have the lowest possible impact on the environment. This helps the business to work in a more ethical and environmentally friendly way.
Environmental compliance is also a concern during mining operations. Mining processes produce toxic waste that can result in acid mine drainage and groundwater contamination. XRF analyzers effectively perform "double-duty" when used to monitor elemental contaminants in soil, sediments, and tailings at mine sites and in waste streams, in addition to exploration and mining applications. They can help quantify RCRA and EPA priority pollutants, including sulfur, lead, and arsenic, in waste streams. They can also help secure tamperproof, legally defensible data to prove financial, environmental, and social responsibility
Mining operations sometimes utilize other types of surveys as well, including aerial surveys and boundary surveys.  Here are short explanations of other types of surveys:
Cadastral (Boundary) Survey
Cadastral (also referred to as boundary) surveys are used to establish the boundaries and dimensions of your property. It is commonly used so that property developers and land owners know exactly what space they are working with. This is a very important survey to conduct as it is used to define land ownership by law.
It is important to get a cadastral survey done as early as possible in construction. It can be used down the track as proof of land ownership boundaries. This prevents loss of time and money due to boundary disputes or community opposition that may become a factor as the construction goes on.
Aerial Survey
Great for large scales projects, aerial surveys are usually conducted by manned aeroplanes or unmanned drones. They provide a base for developers and planners to discuss their concepts and projects. With advancements in technology, aerial surveys are becoming more accurate than ever and can precisely map a large area.
Aerial surveys are often used to survey agriculture, mining, urban infrastructure and environmental compliance. Specialised aerial land surveyors use high-quality survey technologies to give precise and well-defined information across the life of a project. This form of surveying is becoming more popular as technological advancements continue.
Location Survey
Very similar to boundary surveys, location surveys are used to illustrate existing or proposed on-site improvements in a particular area. It is important to make sure any new developments you are planning stay within your boundaries and do not obstruct any easements or regulatory limits. It is critically important to get a location survey before constructing, selling or buying land as it is a requirement to prove the dimensions of your property. Often also used to fulfill the requirements of a loan application or zoning permits, the survey also provides information on the location of interior improvements.
Construction Survey
This type of land survey is used to stake out structures such as roads, buildings, pipelines, walls and utilities. It is often used for high rises, large subdivisions and large scale earthworks. It also accurately sets out grid marks, footings, floor slabs and columns.
Topographic Survey
Topographic surveys are used to define both natural and man-made structures in the area. This helps engineers and architects to plan their design around natural obstructions and make sure their plan fits the condition of the land. A topographic survey identifies trees, creeks and areas of sloping land. It also identifies barriers, fencing, building and landscaping elements. Both aerial and ground field methods can be used to conduct this type of survey.
Subdivision Survey
Subdivision surveys are used to divide large areas of land into smaller parcels. These parcels can be allocated as either commercial or residential use. It is important to record these surveys for local government as they are used to design streets, drainage and lots.
Hydrographic Survey
As the name suggests, hydrographic surveys are used to measure creeks, rivers, oceans or any form of waterway. These surveys are used by governing agencies, developers and investors by providing important navigation and storm water information.
With the constant advancements in technology, every type of land surveying is becoming more accurate and informative. Due to more refined procedures, the cost of conducting surveying is also becoming cheaper. When looking to have a location surveyed, be sure to look for experienced providers with an emphasis on accurate and reliable information.
Author Bio
This article is written by Alex Hamilton, who writes on behalf of Veris – A market leading planning, design, survey and 3D spatial solutions company. You can catch him on Google+.