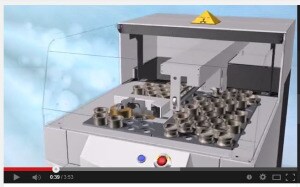 What features should you look for when purchasing a Wavelength Dispersive X-ray Fluorescence (WDXRF) spectrometer for advanced materials characterization of your mining materials? Before moving down your check-off list, make sure the spectrometer integrates bulk elemental analysis capabilities with mapping and small spot analysis.  You should also ensure your solution offers unmatched versatility and performance for the analysis of any mining, mineral and rock samples.  To find that solution, consider these 12 features before purchasing:
Elemental analysis and distribution from Beryllium (Be) to Uranium (U) in:

Inorganic and organic materials
Solids and liquids
Bulk, small and thin samples

 Speed

Automated sample changer for unattended or batch analysis
Multiple positions for cassettes or samples
Priority sample positions
Dual sample loading
Fully automatic unattended operation

High Performance

Optical encoder
Multiple collimators, crystals, and detectors

 Extreme precision

 Digitally mastered goniometric scanning technology

Ultra closely coupled optics

Compact geometries

Smart excitation technology

Complete periodic table performance

High Sensitivity

 50 micron Be window for light elements
 Optional 70kV for heavy elements

Small sample analysis

 Viewed diameter from 5-35mm
Pinpoint focus for small spot analysis: x-ray beam diameters of 0.5mm, 1.5mm, or 3mm

Elemental mapping

Area visualization with camera
Elemental analysis and cartography overlay

 Safe liquid and fine powder analysis

Protection of x-ray tube, auto recognition of liquid or solid sample

Dust/Liquid collection device

Helium shutter to preserve vacuum

Integrated Primary Beam Filters (PBF)

Remote diagnostics

Easy maintenance.
Watch this video to see an animated inside view of a Sequential X-Ray Fluorescence Spectrometer.