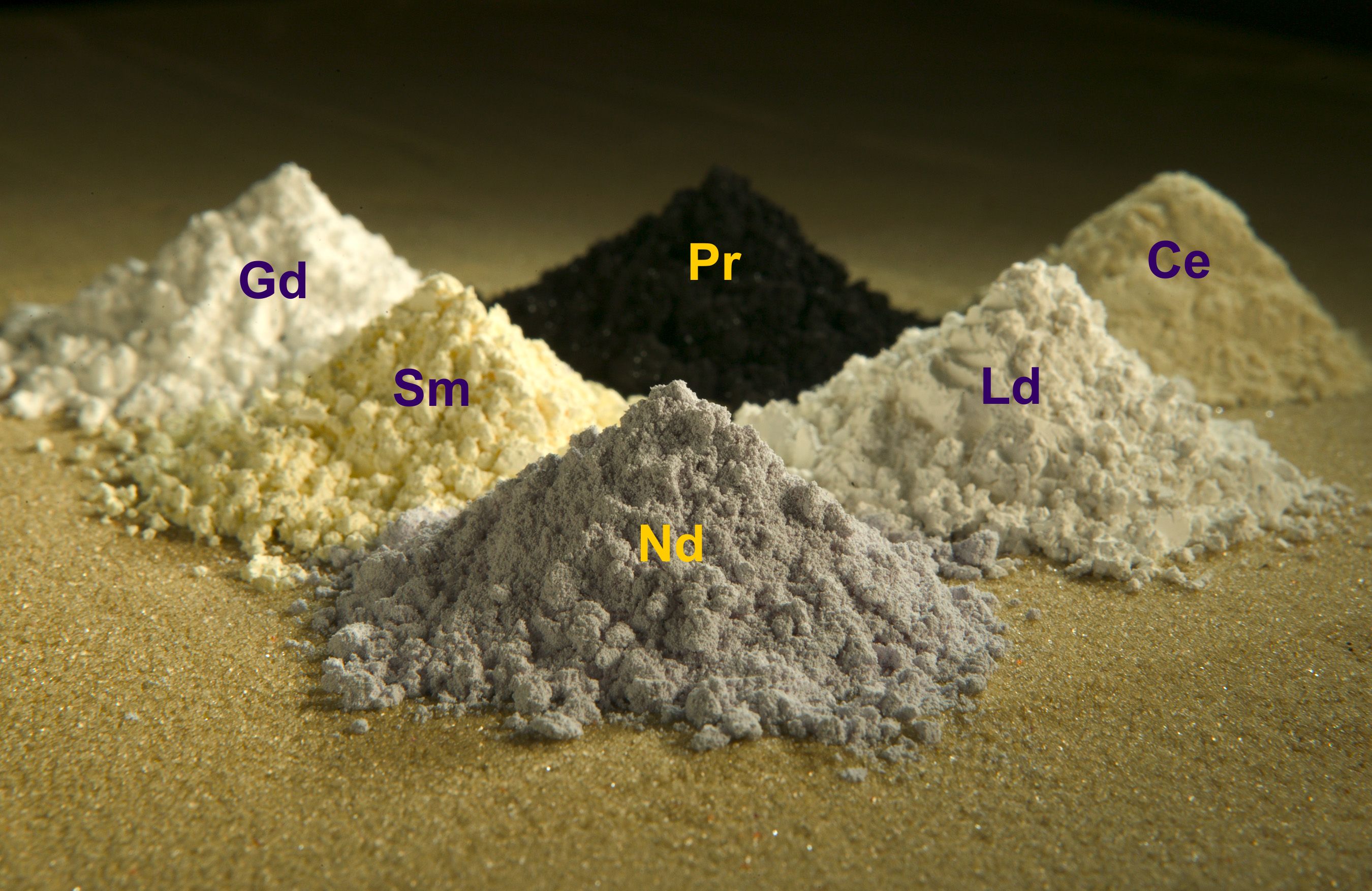 Nothing.  Rare Earth Elements (REE) are not rare at all.
Despite the name, these elements – defined as the 15 lanthanides plus scandium (Sc) and yttrium (Y) – are not as rare as one might think. Although originally thought to be rare, many of the minerals are actually common in the Earth's crust.  However, due to the difficulties in extracting the metal from the ore, rare is a fitting term. These elements rarely exist in pure form; they are usually found within other minerals, making them costly to mine. Ironically, the reasons for extracting them are plentiful.
REEs are commonly used in consumer electronics such as televisions, tablet computers, cameras, and mobile phones, as well as automobile catalytic converters and rechargeable batteries due to their unique optical and magnetic properties. They are also known as the "Green Elements" because they are essential to many green energy technologies. With the growing popularity of hybrid cars and other green products, rare earth elements are becoming more and more important to manufacturing.
Take a look at this infographic for a quick peek at the many ways rare earth elements are used.
For REE exploration, you should use the appropriate portable x-ray fluorescence (PXRF) analyzer, perform some sample preparation, and choose the correct excitation option.  Although tube-based analyzers can fill most mining needs, a 40 kV tube does not have the ability to excite the common REEs. In fact, the excitation efficiency of a 50kV tube in measuring rare earth elements versus x-ray tubes with a lower voltage have shown conclusively that the lower kV tubes are generally unsuitable for this application. 50 kV tube -based analyzers can analyze light REEs including La, Ce, Pr and Nd.
Isotope-based analyzers cover a broader suite of REEs than tube-based analyzers, and offer direct analysis of these elements: lanthanum (La), cerium (Ce), praseodymium (Pr), neodymium (Nd), samarium (Sm), europium (Eu), gadolinium (Gd), terbium (Tb), and dysprosium (Dy), as well as yttrium (Y), uranium (U) and thorium (Th). This breadth of elements can be vital during processing or activities other than exploration, or when direct measurement of heavy REEs is required.
To confirm that either option, tube-based or isotope-sourced, will deliver accurate analysis depending on need, a study was conducted using Thermo Scientific portable XRF analyzers. Twenty-five certified reference materials (CRM) and lab-analyzed samples were packed into standard XRF sample cups fitted with Mylar film and measured with an isotope analyzer for 150 seconds. Seventeen CRM and lab-analyzed samples were packed into standard XRF sample cups fitted with Mylar film and measured with a tube-based analyzer for 120 seconds. Analysis time varied depending on precision requirements.
To see the results, including the correlation curves, repeatability data, methodology, and comments regarding the comparison of the x-ray fluorescence analyzers, read this REE application summary.