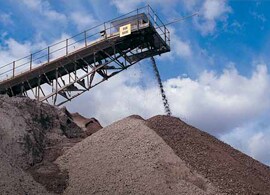 Online analysis systems are utilized to determine the elemental composition of bulk raw materials.  These analyzers are used in various applications including cement, coal, and sintering applications as well as other bulk materials such as copper, iron ore, phosphates, etc. to help ensure consistent material quality and process optimization. However, there are different considerations when selecting an analyzer depending on the application.
There are two source options, prompt gamma neutron activation analysis (PGNAA) and pulsed fast thermal neutron activation (PFTNA).  Prompt gamma neutron activation analysis (PGNAA) and pulsed fast thermal neutron activation (PFTNA) are non-contact, non-destructive analytical techniques used in online analysis systems to determine the elemental composition of bulk raw materials. Both of these techniques are known collectively as neutron activation analysis and function by bombarding materials with neutrons. The neutrons interact with elements in the materials, which then emit secondary, prompt gamma rays that can be measured. Similar to X-ray fluorescence (XRF), each element emits a characteristic energy signature as it returns to a stable state.  (You can read about the technology on our PGNAA and PFTNA Technology page.)
Some analyzers use either PGNAA or PFTNA, depending on the excitation source selected, to continuously measure in real time the elemental composition of an entire raw material stream being carried on a conveyor belt without touching the materials, and without the errors and costs associated with material sampling for off-line laboratory analysis. For example, there are coal analyzers that measure and report levels of sulfur, moisture, total ash, calorific value, ash elemental concentration, and other critical parameters required by both coal consumers and producers to maximize the use of coal resources and reduce pollutants. These are most useful to address coal quality issues in applications including load outs, truck and rail receipted coal using auger samplers, and specifically at power plants for "as received" and "as fired" coal applications. There are also elemental crossbelt analyzers that are ideal for raw coal, plant feed, clean coal and blended coal applications — providing real-time quality analysis of critical process streams to facilitate sorting, blending and out-of-seam dilution control.
For cement applications, knowing the elements in the material is needed to control the raw material quality within a pre-blending stockpile.  If there are adverse materials found within the quarry deposit such as magnesium, alkalis, high sulfur, etc. an online analyzer can provide the immediate feedback needed to identify and avoid those materials. An analyzer can also also help keep a pre-blend stockpile at target chemistry, monitoring the process by providing high frequency analysis and automatically adjusting raw material feed proportions.
For lime applications, high quality limestone or lime is required to meet certain chemical specifications and hence producers must selectively mine and process lime to meet target. An analyzer enables a plant to consistently meet final product specifications. For sintering applications, it is possible to measure sinter feed chemistry to enable control of basicity in real time.
We know it can get a bit confusing, so we developed a PGNAA/PFTNA Product Comparison Table to show at a glance which equipment is the better choice depending on what elements require measurement as well as the particular application.  You can use this comparison table to help determine which PGNAA/PFTNA online analyzer is best for you.
Visit the Cement Production center on our website, with free resources to help you optimize your cement making process.