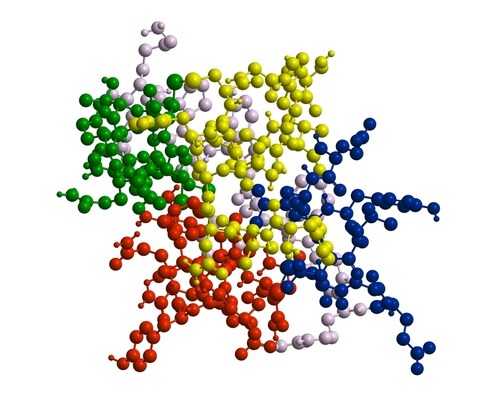 Lin and co-workers (2014) have published a paper reporting a new method for assessing tandem mass spectrometry (MS/MS) search algorithms by referring to the parent-protein mass.1 Their findings should help researchers optimize peptide identification yields from the large accumulation of MS/MS data by setting correct normalization parameters for the search algorithms in use.
With proteomics data, the accuracy of the peptide identification and the confidence with which researchers can successfully identify proteins in the proteomes under investigation depends on the effectiveness of the corresponding algorithm used to interrogate the MS spectra. Tools such as Mascot and SEQUEST software determine peptide sequence matches (PSMs) based upon probabilities that an obtained result represents a theoretical value in a protein sequence database. It is important to set appropriate normalization parameters in the search algorithm to match the conditions for each experimental run so that peptide identifications are as accurate as possible.
Lin et al. asked how researchers would know they had selected adequate normalization settings for the chosen algorithm. Without an effective evaluation tool, it is currently difficult to determine if the most efficient parameter settings—such as mass tolerances or choice of CID ion series—are the best for a specific experimental run. Lin and colleagues proposed developing additional means of assessing algorithm performance, over and above quality scores for PSMs and false discovery rates (FDRs).
The researchers' proposal involved using the pre-digestion parent-protein mass to assess peptide spectrum match (PSM) validity and assign a conformance score. According to the team, for each experimental run, measuring the degree that PSMs conformed to the pre-digestion molecular weight of their parent protein would give an indication of the suitability of the normalization parameter settings selected for the search algorithm.
The team grew YSH474 yeast cells in culture before lysing them and separating the proteins by sodium dodecyl sulfate–polyacrylamide gel electrophoresis (SDS-PAGE) into bands of known molecular weights. They sliced the gels into bands containing molecular weights of 25–37, 37–50, and 50–75 kDa before digesting the proteins with trypsin. Lin and co-authors separated the peptide digests using high-performance liquid chromatography (HPLC) coupled to an LCQ Deca XP mass spectrometer (Thermo Scientific). They matched the MS/MS spectra with peptide identities using SEQUEST, OMSSA (Open Mass Spectrometry Search Algorithm) and Mascot software, concentrating on peptides that only mapped to unique parent proteins. From this data, the team constructed the conformance scores for peptide matches and their parent-protein pre-digestion weights.
From 22 LC-MS/MS runs and ensuring FDRs below 5%, the research team could assess how well peptide identities conformed to parent-protein molecular weights with each set of normalization parameters applied to each algorithm. Overall, they found that peptides identified at multiple parameter settings increased the confidence of a correct match to the parent protein. In conjunction, the conformance scores for these peptides were higher. Peptides identified at only one setting of the normalization parameters had lower conformance scores and did not reliably match.
The team observed that using multiple algorithms and multiple parameter settings increased the yield of peptides identified. They comment that with increasing availability of advanced computing power, this type of processing is becoming more feasible for data processing. Lin et al. suggest that their new tool provides an unbiased method for assessment of data processing tools, showing potential for optimizing experimental confidence and yields.
Reference
1. Lin, M.S., et al. (2014) "Assessment of MS/MS search algorithms with parent-protein profiling," Journal of Proteome Research, 13 (pp. 1823–32), doi: 10.1021/pr401090d.
Post Author: Amanda Maxwell. Mixed media artist; blogger and social media communicator; clinical scientist and writer.
A digital space explorer, engaging readers by translating complex theories and subjects creatively into everyday language.