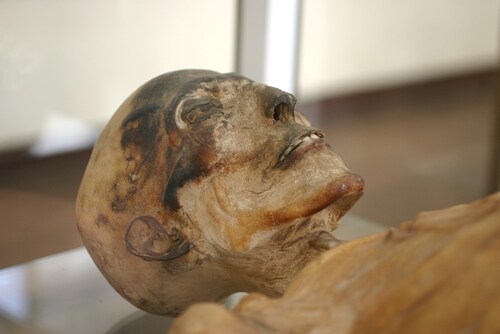 Forensic examination of ancient remains is a fascinating subject, usually relying on DNA evidence to indicate the presence of pathogens; however, this presence alone does not necessarily indicate active disease or ascertain it as the cause of any observed pathology. To answer this problem, Corthals et al. (2012) turned to shotgun proteomic analysis to determine disease activity in the remains of two 500-year-old mummies, a fifteen-year-old girl (dubbed "The Maiden" by her discoverers) and a seven-year-old boy.
Walled into an undisturbed mountain tomb near the summit of a high-elevation volcano, archaeologists discovered the well-preserved mummies in 1999. In all, three children were found; the archaeologists presumed sacrificial slayings. Ideal conditions in the tomb meant that very little decomposition had taken place, with environmental conditions appropriate for adipocere development from subcutaneous fat. The children's features were so well-preserved that it was possible for investigators to predict their health status just before sacrifice from external appearance alone.
Corthals et al. chose two of the mummies for further investigation; the third mummy, a young girl, showed signs of trauma indicative of a lightning strike and was therefore excluded from the proteomic analysis. The researchers noted that although both selected mummies had traces of blood around the mouth and nose, presumably due to the sacrificial process itself, only the girl had a mucoid discharge on her upper lip.
Working in a protective atmosphere, the research team completed CT scans of the two individuals to characterize health status. They observed imaging signs consistent with active respiratory disease and compromised health status in the girl, whereas the boy appeared healthy.
For further analysis, the research team collected buccal swabs from each mummy. They also collected samples from clothing immediately adjacent to the mouth of the boy, since the archaeologists had discovered him with his face resting against the garments. The team processed the samples appropriately, under standard conditions, to extract both DNA and proteins for onward analysis.
Once they had purified and amplified the DNA by polymerase chain reaction (PCR), the research team isolated several pathogens from the girl, including Mycobacterium and Bifidobacterium species. They repeated the procedure with the boy's samples but did not isolate any pathogens. Reviewed in conjunction with the pathological features seen on the CT scan, the team concluded that, at the time of her death, the girl had an active, ongoing pulmonary infection suggestive of a mycobacterial-induced pneumonia. They considered the presence of Bifidobacterium species consistent with the girl vomiting immediately prior to her death.
Following protein extraction and trypsin digestion, the researchers analyzed the buccal swab peptides using an LTQ Orbitrap XL hybrid ion trap-Orbitrap mass spectrometer (Thermo Scientific). Once they had determined peptide identities from the raw spectra, the team compared their results with a human protein database downloaded from EBI-IPI (database version 3.68), concentrating on those proteins involved in immune system and inflammatory responses.
In samples taken from the girl, Corthals et al. identified several proteins indicative of ongoing, severe respiratory infection. These included cathepsin G, alpha-1 antitrypsin, and neutrophil defensins 1 and 3, all of which are consistent with an immune system response to active infection. They also found proteins indicative of severe and extensive pulmonary infection, including apolipoproteins A1 and A2, transthyretin, vitamin-D binding protein and serine protease inhibitor (SERPIN). The boy's samples did not show the presence of any of these proteins, containing only serum proteins normally found in healthy individuals.
The authors conclude that using proteomic analysis in conjunction with forensic DNA amplification is an excellent tool for examining the presence of active disease in ancient remains. Moreover, by using semi-quantitative analyses, they posit that this technique is less prone to contamination than the standard genetic tests.
Reference
1. Corthals, A., et al. (2012) "Detecting the immune system response of a 500-year-old Inca mummy," PLOS ONE, 7(7) (p. e41244), doi: 10.1371/journal.pone.0041244.
Post Author: Amanda Maxwell. Mixed media artist; blogger and social media communicator; clinical scientist and writer.
A digital space explorer, engaging readers by translating complex theories and subjects creatively into everyday language.