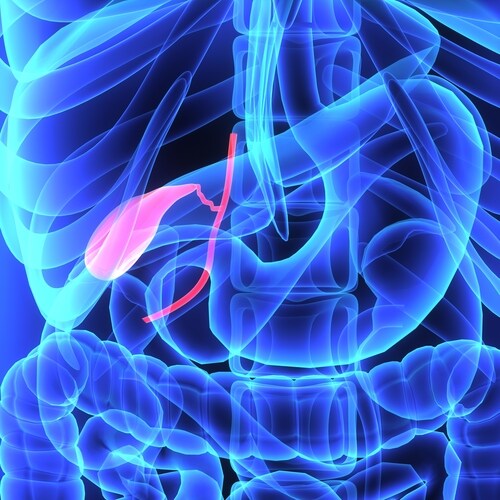 Bile acids may be a useful tool for diagnosis of hepatobiliary diseases in infants. Further, bile acid concentration abnormalities can be associated with intrahepatic cholestasis, nondiabetic metabolic syndrome and type 2 diabetes mellitus. The human body synthesizes bile acids from cholesterol; synthesis occurs in the liver cells. This two-step process involves the formation of two primary bile acids, chalice acid (CA) and chenodeoxycholic acid (CDCA), which are then conjugated. They are then stored in the gallbladder until needed for digestion. Bile acids function within an enterohepatic circuit. Once used, they are recycled, restored and reconjugated. Amplatz et al. (2016) present a highly sensitive method for profiling bile acids that may eventually improve clinical diagnosis.1
The investigators prepared bile acids in their conjugated and unconjugated forms. The unconjugated bile acids included CA, CDCA, deoxycholic acid (DCA), lithocholic acid (LCA), ursodeoxycholic acid (UDCA), nor-UDCA acid and hyodeoxycholic acid (HDCA). They also included their T- and G-conjugates. To prepare the samples, Amplatz et al. prepared T- and d4T-conjugated bile acid standards. They also obtained bile acids from several human and animal sources: plasma/serum, urine and stool.
For their analyses, Amplatz et al. introduced the samples into the chromatographic system using an Accela Open autosampler (Thermo Scientific). They used a 1250 Accela HPLC pump (Thermo Scientific) with a Nucleoshell C18 reversed phase column to analyze human samples and a pentafluorophenyl column for mouse-specific bile acid analysis. A Q Exactive hybrid quadrupole-Orbitrap mass spectrometer (Thermo Scientific) with a heated electrospray ionization ion source in negative ionization mode was used to perform mass spectrometric analysis.
Using this method, the authors synthesized, purified and analyzed more than 20 different compounds from reference standards. For samples from humans and mice, they needed no more than 10 μl. Similarly, Amplatz et al. found that sample sizes of 1 ml and 10 mg of urine and dried stool, respectively, were also sufficient for quantitation. To analyze mouse bile acids they performed an extended full scan ion acquisition, starting at three minutes, compared to five minutes for human samples for chromatographic separation. All together, the investigators identified up to 36 naturally occurring bile acids from the samples.
Comparing calibration curves over five months, the team identified that all correlation coefficients were lower than 15%, with a mean of 7.7%, suggesting that their method was highly reproducible. To test this further, they performed a chromatogram on a plasma sample from a three-day-old boy with an age-appropriate bile acid level. Using their method, they identified some atypical bile acids in low concentrations, which are usually not present in older children and adults.
The authors conclude that their bile acid analysis, using high-performance liquid chromatography–high-resolution mass spectrometry, was sufficiently sensitive to distinguish both conjugated and unconjugated bile acids from a variety of biological materials. Amplatz et al.'s study is additionally beneficial because their method was accurate using low sample volumes, meaning that it could be easily applied to micro samples such as dried blood spots from newborn heel prick tests.
Reference
1. Amplatz, B., et al. (2016) "Bile acid preparation and comprehensive analysis by high performance liquid chromatography–high-resolution mass spectrometry," Clinica Chimica Acta, 464, (pp. 85–92), doi: 10.1016/j.cca.2016.11.014 [Epub ahead of print].