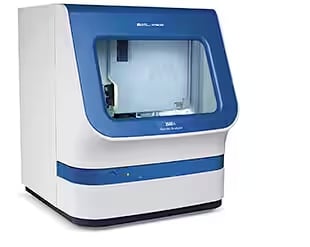 In-Vitro Medical Devices Regulation
Clarity and Confidence With Thermo Fisher Scientific
The In-Vitro Medical Devices Regulation (IVDR) has been in effect in the European Union since 26 May 2022, replacing older directives and aiming to unify and improve manufacturing and safety standards for medical devices. All devices under its aegis released after that date must comply with its rules. This has created some headaches for healthcare professionals, manufacturers, and vendors alike. Thermo Fisher Scientific aims to make this transition as simple and pain-free as possible. With our ability to help ensure your compliance, supply consistency, validation, and scalability, we offer clarity and confidence for your IVDR transition.
In the service of these goals, Thermo Fisher Scientific has updated its acclaimed Applied Biosystems 3500 and 3500 xL Dx Genetic analyzers to comply with the IVDR.
IVDR Transition – 3500-Series Genetic Analyzers
The Applied Biosystems 3500 Dx Genetic Analyzer and Applied Biosystems 3500xL Dx Genetic Analyzer are mid-throughput capillary electrophoresis (CE)-based in vitro diagnostic devices. They are designed to perform fluorescence-based sequencing and fragment analysis of nucleic acids in human-derived specimens for diagnostic purposes. IVDR-compliant versions of both analyzers and corresponding consumables are now available in the majority of EU territories to help hospitals, clinical testing labs and molecular diagnostic manufacturers adopt to new regulations. Clients previously frustrated that these powerful devices were not available in the European Union can breathe easy knowing that their new IVDR-compliant Applied Biosystems Genetic Analyzer is only an order away.
3500-Series Features and Benefits
These genetic analyzers come equipped with a variety of features and benefits useful to diagnostic laboratories. Their dual mode (IVD and RUO) capability can fulfill any lab's development requirements, including sequencing and fragment analysis applications, regardless of use case. Available in both 8-capillary (3500 Dx) and 24-capillary (3500 Dx XL) versions, these devices provide flexibility to match a lab's throughput needs. Their primary consumables contain integrated radio frequency identification (RFID)-tagged labels that enable viewing, tracking, and reporting of critical product information, including expiration dates, keeping labs informed, efficient, and responsive to their inventory levels. The 3500 Dx Data Collection Software offers user-friendly navigation and an intuitive dashboard design, including easy-to-read graphical displays to monitor the state of consumables and a handy maintenance scheduling calendar, helping to avoid surprise delays and repairs.
Ongoing Support for IVDR Transition of CE-IVD Products
Thermo Fisher Scientific is committed to supporting our customers and laboratories through the ongoing IVDR transition impacting both CE-IVD products and Laboratory Developed Tests (LDTs). Our upgrade to the Applied Biosystems 3500 Dx and 3500 Dx XL Genetic Analyzers is one step among many that we are taking to help our clients avoid supply disruption during this transition. We are dedicated and actively working on IVDR-compliance of our CE-IVD products.
Learn More