Wouldn't it be wonderful if there was a tool that forensic scientists could use to assess the quality of an unknown DNA sample before attempting to generate an STR profile? DNA samples collected from crime scenes range from DNA-rich fluids, like blood and saliva, to a few skin cells left behind from a casual touch.  For example, there is generally much more DNA in a bloodstain than on, say, a knife handle. Getting an accurate estimate of DNA concentration is crucial to generating a robust DNA profile.  But what if the process of DNA quantification could provide even more information?  What if it could provide information about the quality of a DNA sample?
Well, luckily there is the Quantifiler Trio Quantification Kit. The Quant Trio kit provides DNA concentration, in addition to quality assessments for degradation and inhibition of the sample. And it can help you make workflow decisions based on quantity of autosomal vs male DNA present.
DNA can be degraded by environmental influences like sunlight, extreme heat, and humidity; degradation may manifest as a ski-slope pattern in the STR electropherogram.  You see this pattern with degraded DNA because small fragments remain intact and amplify well, but the large fragments are damaged and don't amplify well.

To evaluate degradation in forensic samples, a Degradation Index, or DI, has been added to the Quantifiler Trio Kit.  The DI is the ratio of the smaller to larger DNA fragments in a sample.  It is automatically calculated in the software.

The DI for intact DNA will be ≤1, as the concentration of the small and large fragments are approximately equal. Any DI over 1 could indicate degradation. To overcome degradation, you could target more DNA during STR amplification in an effort to increase the signal of the large DNA fragments.
Impurities in a DNA extract can also suppress amplification of DNA – we call this inhibition of the reaction. Inhibition can occur at the quantification or amplification stages and can affect the interpretability of your DNA profile. Inhibition could appear similar to degradation, because large DNA fragments don't amplify as well as small DNA fragments in the presence of the inhibitor.

Although the STR profiles from degraded and inhibited samples may appear similar, don't be fooled. Unlike with degraded DNA, increasing your target adds even more inhibitor to the reaction, making the inhibition even worse.
The Internal PCR Control (IPC) is synthetic DNA that is amplified along with each sample.  It just confirms that the assay worked as expected.  Inhibitors can affect the IPC amplification; an increase in the threshold cycle value for the IPC indicates that it took the synthetic DNA longer than expected to reach a defined threshold; therefore something was impeding the reaction.
There is one tricky thing about interpreting elevated IPC CTvalues.  High concentrations of DNA in an extract (above 5ng/uL) can elevate the IPC Ct slightly because the entire reaction becomes saturated. Because of this, it is very important to evaluate the IPC CTvalue in conjunction with the DNA concentration. For example, if you were to question whether a sample that is at a concentration of 50ng/ul is inhibited, you would have to compare it to other samples or standards with a similarly high concentration.  The same is true for a sample with a low concentration – you should only compare like to like.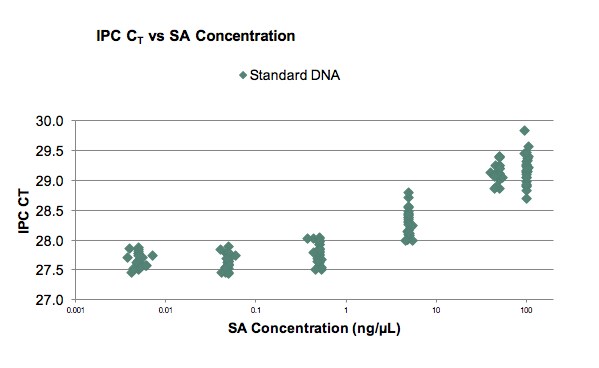 Because degradation and inhibition both affect large DNA targets more than small, it is necessary to assess the quality flags for degradation and inhibition together.  For example, if the DI is elevated, and the IPC is as expected then the sample is degraded and not inhibited.  However, if the IPC and DI are both elevated, you may not be able to determine if the sample is simply inhibited, or both degraded and inhibited. In a severely inhibited sample, the inhibition should be addressed by dilution or clean up and if necessary, the treated sample can be re-quantified to assess whether degradation is present.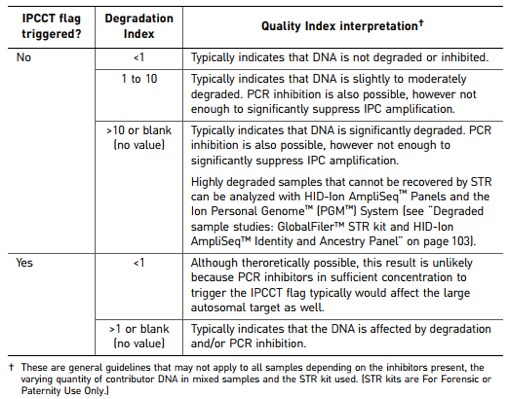 You can learn more from forensic scientists, who work with bone, and use real-time PCR analysis to make decisions that deliver improved recovery of alleles.
For licensing and limited use restrictions visit thermofisher.com/HIDlicensing.
For Research Forensic or Paternity Use Only. Not for use in diagnostic procedures.