AGBT has been an amazing conference so far, with the plenary sessions of the day covering novel genomics applications and technology. As the sun set on the horizon, the focus shifted to workshops, in-suite presentations, and demos.
Adam Ameur of the National Genomics Infrastructure (NGI) from Uppsala, Sweden, and Lucy DesJardin of the University of Iowa gave talks in the Ion Suite (Amarante 1).
A core lab's perspective: experiences of human and microbial sequencing on the Ion S5 XL System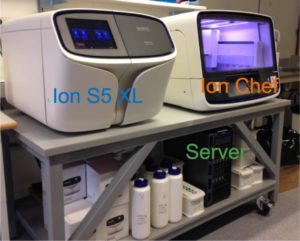 Adam discussed various applications that have been run successfully on the Ion S5™XL platform. In his talk, he shared his experience with the Ion systems, emphasizing the ease of installation, set-up, and how the instruments didn't take up too much room. His talk covered the simplicity of the Ion systems in every aspect, from installation, set up, to running experiments. Adam further explores all the projects his lab currently works on and the varied range of applications that are run on the Ion systems.
Adam's talk highlighted how the Ion S5 systems can be used for several applications with ease and simplicity. He mentioned, "Just using S5 is smooth and easy to operate."
Time Matters: The role of whole genome sequencing in high-resolution bacterial strain typing for foodborne disease analysis
Lucy E DesJardin of the University of Iowa discussed the role of whole genome sequencing in high-resolution bacterial strain typing for foodborne disease research. Foodborne outbreak investigation takes time, and rapid responses and detection may allow for faster investigation and tracking.
Salmonella is the most common foodborne disease in the United States accounting for 1 million illnesses, 19,000 hospitalizations, and 380 deaths annually. The bacteria can be transmitted via contact with animals, person-to-person, or by foods contaminated with small amounts of animal feces. There are over 40-50 cases per week reported to the CDC. Salmonella is genetically homogenous, and there is need for a more discriminatory method to strain-type so that cases in the cluster can be more accurately matched and investigated.
The team studied Salmonella by performing whole genome analysis on the Ion S5XL system combined with the Ion Chef. The Ion Chef allowed for fast, easy, automated template preparation and the Ion S5 for sequencing. They also used web-based analysis using the AssemblerSPAdes Ion Torrent™ server plugin for de novo assembly and phylogenetic analysis of the bacteria, allowing them to receive enhanced cluster resolution.
In conclusion, the Ion S5 along with the Ion Chef can provide a fast rapid analysis of microbial DNA that may be helpful in future epidemics or outbreaks.
Missed AGBT 2016? We have you covered for everything – Check out our AGBT Recap
*For Research Use Only. Not for use in diagnostic procedures