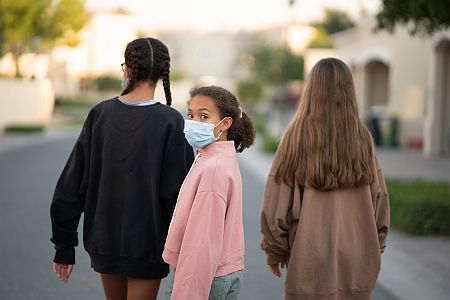 SARS-CoV-2 is rarely found in children, with only about 350 confirmed cases among 4 million total cases worldwide as of May 2020. However, a significant number of children and adolescents in Europe and North America who have been affected by SARS-CoV-2 end up with a complex autoimmune condition. The novel multisystem inflammatory syndrome in children (MIS-C) is a rare and dangerous inflammatory condition that can follow a SARS-CoV-2 infection, with overlapping symptoms for Kawasaki disease. Unlike Kawasaki disease however, which tends to primarily affect toddlers, MIS-C appears in older children with more severity, resulting with the inflammation of blood vessels throughout the body, affecting lymph nodes, heart, lungs, kidneys, brain, eyes, skin or gastrointestinal organs. The direct cause of MIS-C is unclear, however it is believed to be an immune response triggered by SARS-CoV-2 since many of the MIS-C samples are from a population that previously had the virus or were in close proximity with someone who was infected.
There is still much to be discovered about the relationship between SARS-CoV-2 and MIS-C:
Do children have more efficient immune systems to defend against SARS-CoV-2?
What characteristics of a population is more prone to MIS-C?
What changes in the immune system influence a sub-population's susceptibility to MIS-C?
Are there specific host immune responses that are triggered by the SARS-CoV-2 virus that lead to MIS-C?
As MIS-C is likely a result from adverse immune responses, a survey of the immune repertoire could shed some light on the condition, with the hope of understanding its relationship with SARS-CoV-2. Targeted next-generation sequencing (NGS) is a versatile tool for studying infectious diseases like SARS-CoV-2, because it can be used for research of viral biology and immune response including:
It is clear that more research can enable a more complete picture of the correlation or causation of infectious agents and inflammatory syndromes like MIS-C.
Learn more about Ion Torrent targeted NGS for SARS-CoV-2 Research
Research Use Only. Not for use in diagnostic procedures