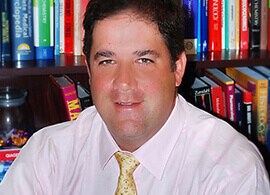 Andrew Brooks, PhD COO, RUCDR Infinite Biologics Professor of Genetics, Rutgers University
Focus: Worked on standards that are key to maximizing the use of biological samples while understanding both analytical and functional quality control
Products: PharmacoScan Solution and Axiom Arrays
Since joining RUCDR, Dr. Brooks has worked to automate and develop the service infrastructure that provides high-throughput sample management and analysis for DNA, RNA and protein-based technologies to hundreds of labs around the world. As Chief Operating Officer, he oversees all laboratories within RUCDR, ensuring consistent and superior quality standards for all services. His methodologies focus on extending the use of valuable samples by extracting and renewing limited quantities of biomaterial with newly developed technologies.
Dr. Brooks has worked over the years with both academic and industry partners on the development of technologies and standards that focus on maximizing the use of biological samples while understanding both analytical and functional quality control. He has shared this information globally across many public and private biobank programs through a variety of academic and commercial activities.
"Using the Axiom platform for a product like PharmacoScan is a huge advantage because we're only seeing an increase in the number of samples that people want to look at for pharmacogenomics and pharmacogenetics across a variety of different applications."
Dr. Brooks presented at our scientific workshop at the ISBER 2018 Annual Meeting in Dallas, Texas. His talk, "Implementation of Genetic Analysis in Comprehensive Biobank Workflows for Basic Science, Clinical Research and Precision Medicine Applications," as well as a discussion about his experience in using Applied Biosystems genotyping solutions, can be viewed here.