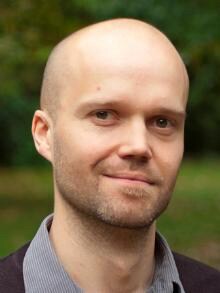 Dr. Andrew Filby, Ph.D. Flow Cytometry Core Facility Director and ISAC SRL-Emerging Leader at Newcastle University in the UK, recently spoke to us about his extensive research experience studying reagents that can be used to study cell proliferation by dye dilution. His lab focuses very specifically on cytometry and the development of different methods and protocols for making measurements on cells. He shares with us his findings about what makes a good dye dilution reagent, provides advice for anyone running a dye dilution experiment by flow cytometry. He also shares a few tips and tricks for using the CellTrace Violet and CFSE cell proliferation reagents.
What reagents have you used to study cell proliferation by dye dilution using flow cytometry?
My lab has worked with a number of cell tracing reagents for tracking cell proliferation by dye dilution. We've worked with the succinimidyl ester family of dyes (CFSE, CellTrace Violet, CellTrace Far Red, and eFluor Proliferation dye 670). On the other end of the spectrum we've also worked with the lipophilic dyes such as PKH26, PKH67, all for the purpose of trying to track cell proliferation by dye dilution.
What's the difference of using a succinimidyl ester dye versus a lipophilic dye?
One of the most potentially confounding issues that you'll face when working with any kind of fluorescent dye tracking cell proliferation is the propensity of those dyes to be transferred to adjacent cells in culture. In our hands, we've found that lipophilic dyes such as PKH26 and PKH67 are particularly prone to transferring to adjacent cells in culture conditions; this is because they integrate into the cell membrane and cell membrane exchange occurs quite readily between cells.
At the other end of the spectrum, in our hands, most of the succinimidyl esters dyes that we have worked with are generally well retained within the cells and are not transferred to adjacent cells within a culture.
What makes a good dye dilution reagent for studying cell proliferation?
My lab has extensively studied what makes a good reagent for tracking proliferation by dye dilution. For me, there are three different categories initially which are important to look at.
The first thing: how well tolerated is the dye in terms of toxicity? Proliferation is a response which cells perform when they are alive and healthy. So if you are labeling a cell population with a dye for the purpose of tracking proliferation with a dye that is highly toxic, then you are going to have a problem straight away. The first thing we tend to do when we have a new tracking dye for tracking cell proliferation by dye dilution, is to test its tolerance in the cell population that we are interested in over a range of different concentrations.
The second thing we look at when using these dyes is how bright the population is after labeling. As the cells undergo division they dilute the dye as they proportion into the daughter cells. If the dye is not very bright, you start with a quite low level of intensity which maybe only will allow us to track maybe 3 or 4, or maybe 5 different proliferation rounds before the signal ends up merging into the background of the detector. Labeling intensity is very important.
The third thing for me is how tightly distributed the labeled population is. My lab has shown that there is a direct correlation between the peak resolution post-labeling and how well resolved the division peaks will be as the cells undergo division.
In my opinion, I believe that CellTrace Violet is the new gold standard for performing cell division measurements by dye dilution. For me it is because it is very non-toxic, it labels the cells very brightly, and gives very , very nice peak resolution even in cell types such as B cells or transformed cells which are more challenging to be able to resolve the division history from.
Why is it important that reagents are non-toxic to live cells?
If you are measuring proliferation in a cell population in vitro, you need those cells to be highly viable and metabolically active, and have a good fitness, a good cell health. If you are using a dye such as CellTrace Violet to track that proliferative response by the presence of dye dilution, then the dye must be well tolerated by the cells that you are labeling.
For someone new to conducting dye dilution studies, what advice would you give them?
For people that are coming to work with dyes such as CellTrace Violet for tracking proliferation by dye dilution, I think for me the most important thing that you need to do first is you need to empirically test how the cells that you'll be working with will interact with the dye that you are using.
I would begin by first testing the different concentrations of the dye against your cell population. I would look for 3 different criteria already mentioned, as my measures of determining which concentration is the best to use. I would look at the viability and conversely the toxicity of that particular concentration that you're working with. I would look at the intensity of the population post-labeling and I would also look at the uniformity. All of those 3 different criteria will very much affect the quality of the assay.

Is any one thing out of the three above more important?
In our experience of developing robust assay protocols working with CellTrace Violet for the purpose of tracking proliferation history by dye dilution we found that all of those three criteria are important. Really, all three of the criteria should be considered.
Any Tips and Tricks using CellTrace Violet that you would like to share?
When working with any of the dyes in the succinimidyl ester family such as CellTrace Violet or CFSE, they work by entering cells and binding to amine groups in proteins. One of the biggest considerations we've found is that when you are incubating the cell population with any of these dyes, it is important to do that in protein-free conditions. If you do not do that, then you may find that the dye preferentially binds to the proteins in the buffer rather than ending up in your cell.

What's it like collaborating with scientists at Thermo Fisher Scientific?
One of the most enjoyable things about the field of cytometry is the advancement. The advancement is driven by new hardware but it is also driven by the production of novel reagents which allow us to make central measurements on cell biology that we are looking at. Since I have been working with Thermo Fisher Scientific on a collaborative basis, this has been one of the greatest benefits of the relationship because we have been able to access a whole new suite of interesting reagents, compatible with our flow cytometers, which again allow us to make essential measurements on the types of cells that we are interested in looking at.
For Research Use Only. Not for Use in Diagnostic Procedures.