Two types of Mass Spectrometry (MS) have been used to monitor fermentation processes: magnetic sector, where charged particles are separated in a variable magnetic field, and quadrupole, where charged particles are separated in a variable RF field.
Key advantages of magnetic sector analyzers include improved precision, accuracy, long intervals between calibrations and resistance to contamination. Typically, analytical precision is between 2 and 10 times better than a quadrupole analyzer, depending on the gases analyzed and complexity of the mixture.
The signal intensity at any specific mass position on a magnetic sector analyzer appears as a flat top peak. This means that any small drift in the mass scale will not result in a change in signal intensity. This is not the case with quadrupole mass spectrometers that provide rounded peaks. The magnetic sector analyzers used in some mass spectrometers are laminated, so they scan at speeds equivalent to that of quadrupole analyzers, offering the unique combination of rapid analysis and high stability. This allows the fast and extremely stable analysis of an unlimited number of user defined gases.
The excellent long-term stability provided by magnetic sector MS is illustrated in the table below:
In the example above, a benchtop gas analysis mass spectrometer was configured to analyze nitrogen, oxygen, argon and carbon dioxide in a cylinder of compressed air continuously, without interruption or recalibration, for seven days. The analysis cycle time was 5 seconds to measure these four components. Day-today mean values for nitrogen and oxygen varied by 0.005 %mol or less, day-to-day mean values for carbon dioxide varied by 1 ppm or less.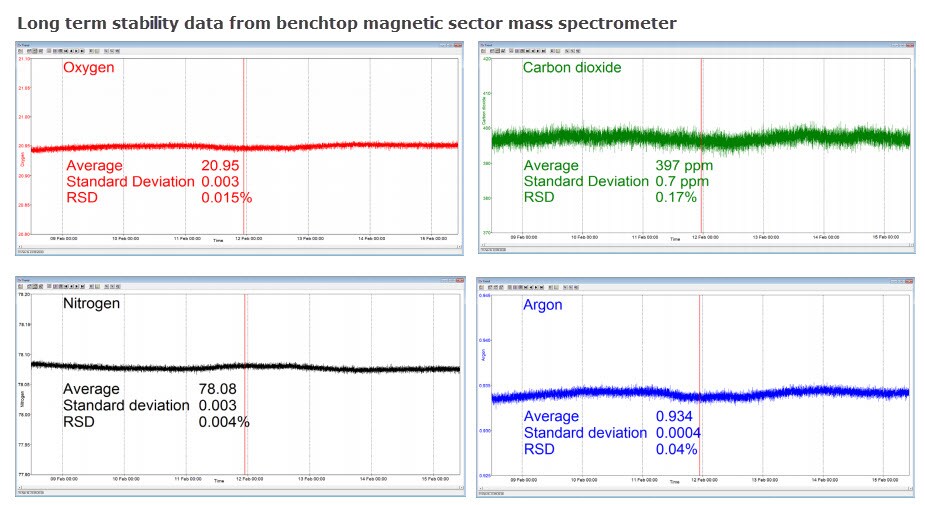 The above charts show graphical displays of the four gas readings taken from a benchtop magnetic sector mass spectrometer. Quadrupole mass spectrometers require frequent calibration to correct for their inherent drift.
Benchtop magnetic sector mass spectrometers can also offer rapid multistream sampling when one has to monitor multiple bioreactors, measurement of  oxygen, carbon dioxide, nitrogen and argon in both inlet and outlet to calculate the respiratory quotient for fermentation off-gas analysis, and analysis of volatiles that can yield vital information on the well-being of the fermentation. (You can read more specifics about these factors in the application note Gas analysis mass spectrometer applications in fermentation and cell culture process.)
Magnetic sector mass spectrometers have demonstrated the highest levels of precision for fermentation off-gas analysis and have been successfully monitoring fermentor off-gas at many of the world's leading biotechnology and pharmaceutical companies for many years.
Editor's Notes: