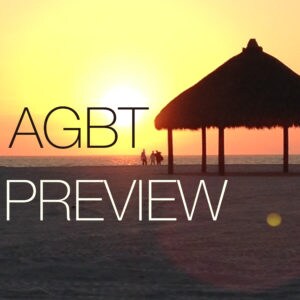 A new year, a new venue: AGBT 2016 in Orlando, Florida
We are kicking off AGBT 2016 week in Orlando, Florida. While the genomics world's favorite Marco Island resort gets a facelift, Orlando's JW Marriott in Grande Lakes will be hosting the annual Advances in Genome Biology and Technology (AGBT) General Meeting this week. Here's where and what we're cooking:
S is for Science in Ion Suite Amarante #1
Come visit us in our suite where you'll hear from customers advancing their science using the new Ion S5™ systems, from our scientists presenting posters on the latest R&D innovations, and see software demos while grabbing a snack with us (Snacks and beverages will be provided during Posters, Suite Talks, and Software Demos).
S is for Suite Talks
Thursday, February 11th
5:15 p.m. Getting the most from your liquid biopsy samples: CTCs and cell-free DNA from blood. Presented by Paul W. Dempsey, PhD, Cynvenio
6:15 p.m. High throughput comprehensive sequencing using Ion AmpliSeq Custom Mendelian and Oncomine Panels on the Ion S5 XL System. Robert P. Sebra, PhD, Icahn School of Medicine at Mount Sinai
Friday, February 12th
5:15 p.m. Time matters: the role of whole genome sequencing in high-resolution bacterial strain typing for foodborne disease research analysis. Lucy E. DesJardin, PhD, State Hygienic Laboratory, University of Iowa
6:15 p.m. A core lab's perspective: experiences of human and microbial sequencing on the Ion S5 XL System. Adam Ameur, PhD, Uppsala Genome Centre, Sweden
S is for Scientific Posters
We'll also be featuring our scientists presenting posters on the latest R&D innovations in Ion Suite Amarante #1. Be sure to come between 5 p.m and 7 p.m. to talk with the scientists themselves.
Preparing libraries directly from blood, saliva, buccal swabs and FFPE sections on the Ion Chef System.
Localized gene expression changes by AmpliSeq transcriptome sequencing from Arcturus™ laser capture microdissected formalin-fixed, paraffin-embedded (FFPE) Alzheimer's and normal brain sections.
Speeding up the Ion S5 XL system: sequencing in an hour enables sample to answer in an 8 hour workday.
Simple, rapid, low input library preparation using MuA transposons.
600 base reads on the Ion S5™ System enables accurate HLA typing of 96 samples on one Ion 530 chip.
Detection of somatic mutations at 0.5% frequency from cfDNA and CTC DNA using a multiplex next-generation sequencing assay.
S is for Sponsor Workshop
Saturday, February 13th
9:40 a.m – 10:00am: Simon Cawley will close it up with our Bronze sponsor workshop talk, talking about all our leading innovations in targeted sequencing on Saturday in the Mediterranean Ballroom.
We hope that AGBT 2016 proves to be a great and productive meeting for you, and we hope to see you in Orlando! And just in case you can't make it this year, we'll be providing live coverage on the Ion Torrent channels, so be sure to follow us on Twitter and Behind the Bench.