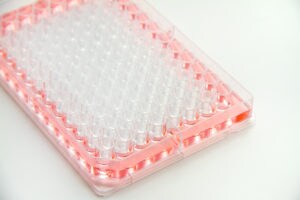 If you commonly use microplates for cell-based assays, it's likely that at some point or another you've suffered from the edge effect. This inconvenient phenomenon is when some of the medium – mostly around the perimeter – from the plate partly evaporates during incubation, leaving you with all sorts of problems. These problems include varying volumes, concentrations, and evaporation rates, which can alter cell viability and assays results.
Traditionally, researchers have resorted to avoiding using the outer wells of the plate, but of course, this isn't very efficient, especially for high-throughput experiments. Luckily, there are some technologies and methods out there that you can use to reduce plate evaporation from skewing your assay results.
Evaporating media
A fluctuating incubation environment is one of the biggest culprits when it comes to plate evaporation, particularly for long culture periods. In order to maintain a consistent environment, it's important to streamline the workflow to ensure it is as efficient as possible. Some techniques that can be employed to reduce evaporation include maintaining at least 95% humidity, limiting the number of times you open the incubator door, and covering your plate during incubation. Incorporating these simple practices into your workflow can help eliminate variability between individual wells.
A novel solution
If you find that these techniques are too time-consuming or simply not working, you can use a specialized microplate, such as the Thermo Scientific™ Nunc™ Edge 96-Well Plate, that's designed to allow gas exchange but reduce evaporation. These plates typically have a small moat surrounding the outer wells, which can be filled with a sterile liquid to act as a buffer zone. This minimizes media evaporation over long periods of incubation, ultimately reducing the edge effect – without compromising efficiency.
More on maximizing your assays
For even more tips and techniques around reducing the edge effect, explore our on-demand webinar in the Cell Culture Cafe: Take your Cell Based Assays to the Edge.