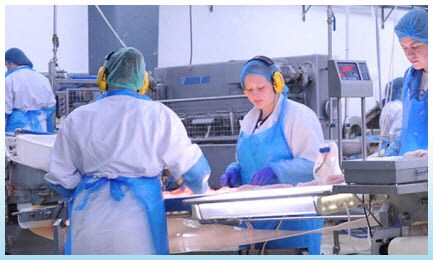 Checkweighers are key to measuring the efficiency and cost of a packaging line. If you are a food manufacturer, you probably have metal detection and X-ray inspection equipment as a first line of defense to identify the presence of foreign contaminants in food products before they have the chance to leave the processing plant. But contaminants aren't the only concern for your quality control. Does the package weigh the correct amount? If not you could be short-changing the customer, violating laws, or reducing your profit. Are there missing pieces within a larger packaged product? Incomplete products in the hands of your consumer could damage your brand.
A checkweigher classifies, counts and rejects products that are off spec, which helps you meet throughput and legal requirements while providing reliable weight control. We previously wrote about how food manufacturers use checkweighing to ensure that the weight of a packaged product being shipped out the door matches the weight on the label, and confirm that all the intended pieces are included in the final package. (See Infographic outlining 10 Ways to Save Money Using Checkweighing.)
However, there are several challenges that might impede the accuracy of standard checkweighers. With the arrival of packages in new style pouches, blister packs, paper and plastic tubes, multi-compartment trays, etc., each new package must be handled – and more importantly reliably rejected – in a customized way. If your company has adopted new packaging, line rate, product, or process requirements, a 'standard' solution may not work for you and it may be time for a custom-engineered checkweigher solution.
There are several factors that play into successful checkweighing that may have to be customized to ensure that your equipment is helping to maximize your process efficiencies while providing reliable weight control measurements including:
the number of weighing lanes and how they are powered
type of belts and / or chains
belt speed
custom reject devices or methods
floor space availability
vacuum in/outfeeds
Without the correct modifications, a number of problems can occur. Here are a few examples of real-life scenarios that dictated customization of checkweighing equipment for specific business needs:
A special 'finger reject' was needed to avoid spillage of open spice containers. Ingredients can be expensive so open containers need to be kept upright during the process and even when they are rejected.
Round boxes needed special over/under belts that are interleaved between the infeed- weighing and the outfeed for smooth product transfer.
Glass bottles of powder needed two weighing sections with independent frame and conveyers. A totally contained solution eliminates loss of synch between the tare and the gross weight measurements.
For plastic cans of pet food, slack belts were the preferred solution because slack belts do not carry the motor weight as in a powered weigh table design, allowing higher accuracy for low weight fills. Filler must work without spillage for the slack belt design to be effective.
When a cartoning machine needed an embedded checkweigher due to space limits, two lateral load cells were used to weigh each carton as it was briefly lifted off the cartoner's conveyor. In addition, complete software integration between the machines was developed.
Abrasive cake mix prescribed roller-end deadplates and oil-impregnated plastic tracks, with direct connection to the bagger.
One manufacturer needed to integrate a metal detector with the checkweighing equipment for heavy bags.
For multiple package sizes of tea, the checkweigher needed to manage products from five different fillers, while fitting all box sizes during on-the-fly product change-over using a barcode scanner.
These customizations are just a few examples of how the broad range of packages and increasing line rates in the global packaging market require a broad range of checkweigher solutions capable of delivering accurate, reliable results. The first step to ensuring that your checkweigher is the key to efficiency and cost of a packaging line is to understand your requirements upfront to identify the supplier capabilities that are needed. The second step is to ensure you choose a vendor who can adapt the equipment to your needs.
I presented this material at a well-attended session at the last Pack Expo. You can download the slides here: An Engineered Checkweigher Solution Can Meet Evolving Production Requirements
Editor's Note: You can also watch this video to see some of the parts of a checkweigher and how it can be configured. Scroll down to the bottom of the page.
Need help figuring out which checkweigher is best for your business?  Here's a Checkweigher Selection Guide.