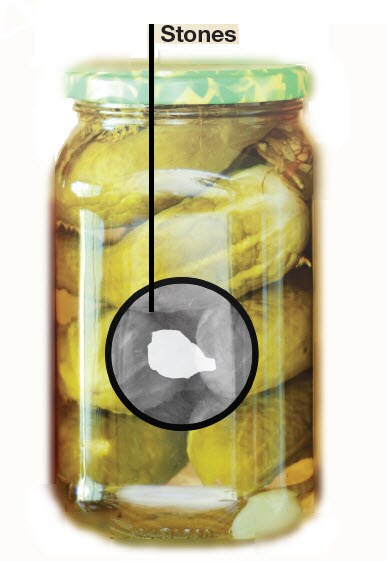 Getting x-rays of your teeth at the dentist office is important to oral care and healthy teeth, but x-rays can also guard against contaminants in food that could break your tooth.
X-rays are simply light waves that we can't see. Other light waves that we can't see include ultraviolet (UV) light (which gives you a sun tan), infrared light (which warms you up), and radio waves. X-rays have a very short wavelength, which corresponds to a very high energy.
According to NASA (U.S. National Aeronautics and Space Administration):
X-rays were first observed and documented in 1895 by German scientist Wilhelm Conrad Roentgen. He discovered that firing streams of x-rays through arms and hands created detailed images of the bones inside. When you get an x-ray taken, x-ray sensitive film is put on one side of your body, and x-rays are shot through you. Because bones are dense and absorb more x-rays than skin does, shadows of the bones are left on the x-ray film while the skin appears transparent.
X-ray systems create grayscale images corresponding to density. Many people are familiar with x-rays in medical and dental imaging; broken bones and dental fillings can be easily seen on film. However, x-ray systems are also quite common in the food industry. To detect a contaminant in those images the contaminant must have significant contrast compared to the product the contaminant is inside. For instance, fragments of bones, pits or shells can be detected in a bag of snack chips.
These x-rays can penetrate food products and detect physical defects or contaminants within the image of the food product — without damaging the food.
But is it safe for the person consuming it? Food x-ray inspection systems do not use radioactive materials to generate x-rays. Instead they use x-ray tubes that are run at very high voltage where electrons are accelerated across a gap bombarding a tungsten material to generate x-rays. When the tube is turned off no x-ray energy is emitted.
A typical food inspection system is very low power with the average exposure of the food product being 0.5 millirad or less. This level of exposure has never been shown to impact the molecular structure of the product. It is similar to the amount of natural radiation the human body receives each hour from space when flying in an airplane at altitude. For comparison, x-ray irradiation systems used to destroy pathogens or parasites in food products emit 5,000 rad or 1 billion times more radiation.
According to the U.S. Food and Drug Administration (FDA) website: There are no known adverse effects from eating food, drinking beverages, using medicine, or applying cosmetics that have been irradiated by a cabinet x ray system used for security screening.  In fact, in their Summary of Literature Findings on Physical Safety Issues and Preventive Controls, when a problem/risk included extraneous objects or foreign matter in food, or when hard or sharp objects presented food safety hazards, whether metallic or non-metallic, the FDA suggested using metal detectors and x-ray technology, among other things, as preventive controls.
For additional information, read the white paper: 10 key facts food processors should consider before purchasing and installing X-ray inspection systems.
Note:  You can learn more about X-rays in this ebook.