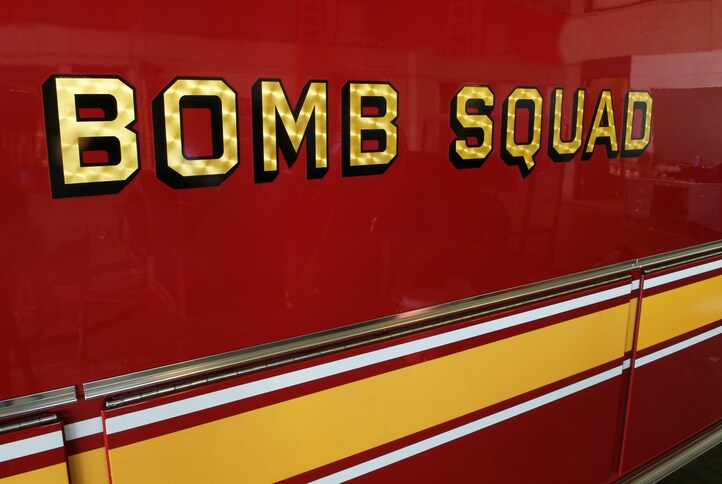 Bomb technicians worldwide rely on chemical analysis instruments for rapid, specific identification results to help ensure a safe remediation. Handheld chemical identification instruments provide precise, actionable intelligence in the field which increases both responder and community safety.
The underlying technologies in these analyzers offer distinct advantages in specific explosive applications. One of these technologies, FTIR spectroscopy, has advantages over another common technology, Raman spectroscopy.
FTIR stands for Fourier Transform InfraRed, the preferred method of infrared (IR) spectroscopy. When IR radiation is passed through a sample, some radiation is absorbed by the sample and some passes through (is transmitted). The resulting signal at the detector is a spectrum representing a molecular 'fingerprint' of the sample. The usefulness of infrared spectroscopy arises because different chemical structures (molecules) produce different spectral fingerprints.
The Fourier Transform converts the detector output to an interpretable spectrum. The FTIR generates spectra with patterns that provide structural insights. (You can watch this tutorial for a quick description of what "FTIR" means and how the "FT" and the "IR" parts work together.)
FTIR spectrometers are exceptionally useful for identifying unknown chemicals of a variety of colors. They will not generate energy during the sampling process, which makes it an ideal tool for verifying substances such as: smokeless powders, Pink or Green Detasheet, Semtex, or hundreds of other colored materials. (Since contact is required between the sample and the instrument, extreme caution should be taken when analyzing pressure sensitive substances.)
In addition, certain explosive materials and their precursors have the potential to display fluorescence (generation of light during Raman sampling) which can affect the identification capability of a Raman instrument. FTIR is ideal for potentially fluorescent samples because of the way FTIR spectroscopy interacts with an unknown sample.
There are instruments that utilize Raman spectroscopy, and some that integrate both technologies in one instrument. When faced with an unknown chemical threat, every second counts. Chemical analysis instruments can harness the power of FTIR spectroscopy to provide fast, actionable data to mitigate potential threats and protect hazmat teams and the community. Here are spectra showing results from Raman and FTIR analysis individually (left column) and then together (right):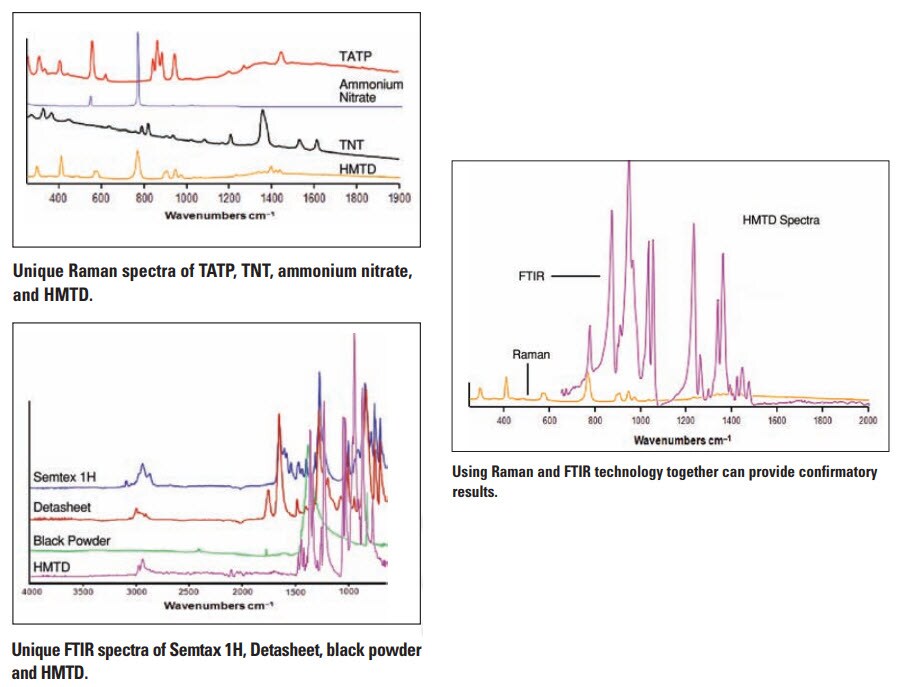 Using Raman and FTIR technology together provides confirmatory results and a broader range of unknown substance identification.
You can read more about these technologies in the Application Note: Explosive Identification using Raman and FTIR.