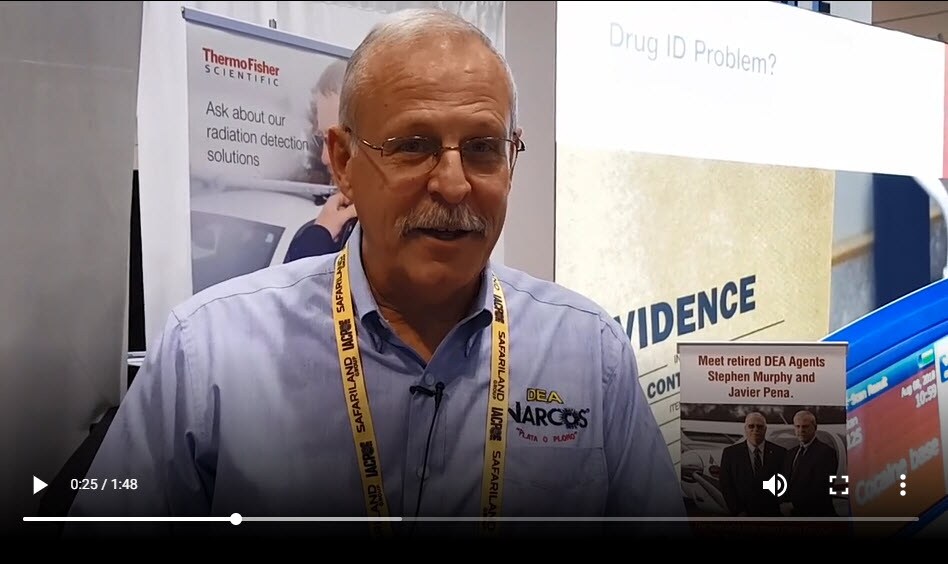 Retired DEA agent Steve Murphy, one of the agents who helped take down Colombian drug lord Pablo Escobar, discussed the latest handheld narcotics analyzers for field-based presumptive narcotics, precursor, and cutting agent testing at the IACP Conference and Exposition.  In this video, Murphy encourages uniformed personnel, and especially interdiction officers, to keep these newest Raman devices in their cars.
Here are some excerpts from the two-minute video:
"Now we have problems like Fentanyl. You can breathe the powder through your nose when you're trying to test it [the old way], or it can even be absorbed by your pores…. "
"With new technology, you don't even have to open the package that the suspect substance is in.  You can test it right through the plastic, right through the bottle, and you never have to come in contact with the powder…."
"The technology that is available today is amazing, and we would have loved to have this twenty years ago."
The tools that Murphy references utilize Raman spectroscopy, a well-established analytical technique, and are used in the field to identify key drugs of abuse as well as common cutting agents, precursors and emerging threats such as fentanyl and carfentanil. You can find out how police departments that are currently using narcotics analyzers in the field to help fight the drug crisis.
As Murphy mentioned, these handheld narcotics analyzers can test unknown substances without requiring that they be removed from packaging, which means that the first responders and law enforcement officials can avoid direct contact with the substance or even the "puff' that may result from opening the package, which could cause harm.
Read more about the DEA agents Who Took Down Pablo Escobar