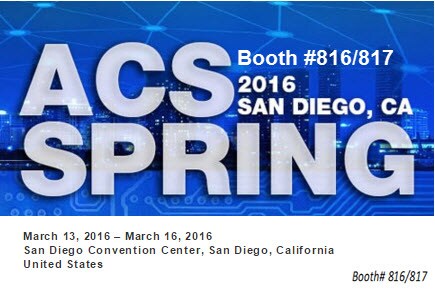 The American Chemical Society strives to help improve people's lives through the transforming power of chemistry. Examples of that power can be seen at this month's 251st American Chemical Society National Meeting & Exposition. The San Diego, California, event will be held March 13-16, 2016.
During the meeting scientists will present new multidisciplinary research, hear the latest information in their areas of professional interest, and network with colleagues. Over 10,000 chemists, chemical engineers, academics, graduate and undergraduate students, and other related professionals are expected to attend.
Connect with us in booth# 816/817 and speak with our chemical experts about integrated laboratory workflow solutions including sample preparation, chromatography, mass spectrometry, trace elemental analysis and molecular spectroscopy. You can take a look at the latest technologies to help streamline processes, deliver confident results, yield higher throughput, and reduce sample preparation.
Of particular interest to our Polymers and Plastics blog readers are the FT-IR spectroscopy solutions that will be discussed. Our experts will discuss the pros and cons of FT-IR and Raman microscopy mapping and imaging for the analysis of layered polymer composites. You can also explore how to monitor the UV cure process of a polymer based ink by FT-IR.
Our experts will explain how Infrared (IR) spectroscopy is used extensively to characterize the chemical composition of trace evidence such as paints, fibers and adhesives and related chemicals. Infrared spectroscopy is one of the few analytical techniques considered by the forensic science community to have the highest discriminating power required to provide confirmatory evidence about the chemical composition of a material – even in automotive paint chips.
Working labs need analytical flexibility to respond to a variety of situations where answers are critical for decision-making. Examples include deformulating mixtures to build a case for patent infringement, identifying counterfeit materials for product safety alerts, performing failure analysis to minimize production run delays, assessing process scale-up options for a new product launch, or troubleshooting customer complaints. Such diversity of applications requires the selection and installation of the correct instrument accessory as well as choosing the optimal source, beamsplitter, detector, optical path, and experimental conditions. Stop by our booth and find out which instrument best meets your lab's requirements.
Nuclear Magnetic Resonance (NMR) spectroscopy will also be showcased. NMR spectroscopy is the method of choice for many organic chemists because of its versatility in elucidating molecular structure, optimizing reaction dynamics, measuring reaction kinetics, monitoring reaction content and controlling product purity. NMR spectroscopy provides a wealth of information on physical, electronic, chemical and structural aspects of molecular systems. It is a nondestructive technique ideally suited for measuring and recovering small sample quantities. Find out how NMR compliments other techniques, such as FTIR, UV-Vis spectroscopy and mass spectrometry, providing a wealth of molecular-scale information.
If you can't make the meeting, we have plenty of resources available on the technologies that will be demonstrated at the booth. Just click here and scroll to the bottom of the page to find your technology of interest. You can also follow the show happenings on twitter @AmerChemSociety using #ACSsandiego or our polymers and plastics account @thermoscip2p.
Hope to see you in San Diego!
Event Details:
ACS Spring 2016
Booth# 816/817
March 13, 2016 – March 16, 2016
San Diego Convention Center, San Diego, California
United States