Pyrolysis, the first stage in manufacturing single-layer graphene, is the chemical decomposition of carbon-based materials through the application of heat. The problem with pyrolytic decomposition of graphene precursors is that it requires extremely high temperatures (over 1000 °C). Here metal catalyst substrates are used to reduce the reaction temperature. During the chemical vapor deposition (CVD) process, carbon precursors adsorb on the catalyst surface and are subsequently decomposed to form different carbon species. These species serve as the fundamental building blocks during the graphene growth.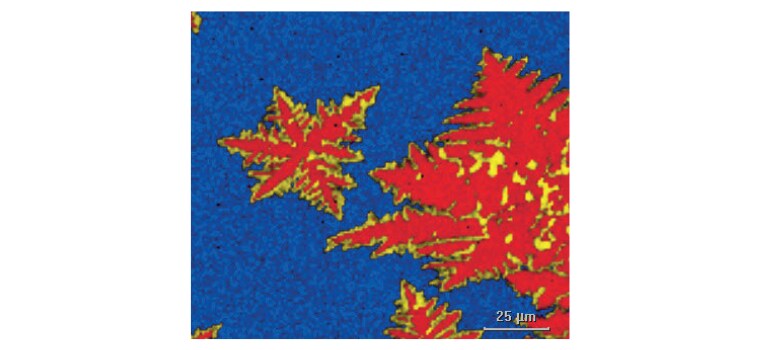 Continuing the process, these carbon species diffuse on the catalyst surface until they eventually react with each other to form small carbon clusters. Once the carbon clusters exceed a critical size, graphene crystals nucleate. As the deposition progresses, carbon species continue to add to the edges of the graphene islands, eventually resulting in a continuous, single layer of graphene. Once a complete monolayer has formed, additional layers typically do not grow due to the low reactivity of the graphene surface compared with that of the catalyst. But how does one judge the quality of graphene sheets when produced over large areas at an industrial scale? Enter Raman imaging microscopy.
The spectrum of graphene acquired with Raman spectroscopy determines the number of graphene layers and provides information on the density of defects incorporated into the graphene lattice during growth. Raman imaging microscopy provides important spatial mapping that reveals the graphene coverage, nucleation density, and island morphology. This information can be used to understand the critical synthesis parameters and mechanisms that govern the growth and nucleation of graphene. Given this feedback, the growth conditions can be optimized to minimize the defect density in these graphene films.
In our application note 52551 we highlight the effectiveness of rapid Raman imaging applied to the field of graphene CVD growth dynamics. Raman imaging provides key information in developing CVD methods for single-layer graphene films with lower defect density, and thus, superior properties.
Read Uncovering the Secrets Governing the Chemical Vapor Deposition of Graphene with Rapid Raman Imaging