Properties of single crystals
Single crystals have a single, unbroken crystal lattice without any grain boundaries all the way to their edges. The absence of defects is what makes precious stones pure and adds to their value as jewelry. Single crystals also have unique properties that make them ideal in industrial applications like silicon wafers, solar panels and jet engine turbine blades.
When single crystals are synthetically produced, the physical properties must be carefully controlled. Specifically, single crystals can exhibit different optical, mechanical, thermal and electrical properties based on their material and orientation.
Laue method of X-ray diffraction
Today, the Laue method of X-ray diffraction is predominantly used to determine the crystallographic orientation of single crystalline materials. Laue diffraction uses white Bremsstrahlung instead of monochromatic radiation. The images captured by this technique appear as a series of scattered spots, known as the Laue pattern, which indicate crystallographic orientation.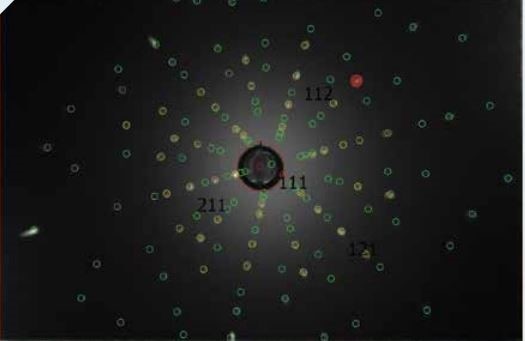 The Laue diffraction pattern of a diamond crystal a few millimeters in size. In this case, the dots and orientation are well defined, thanks to the Thermo Scientific ARL EQUINOX LAUE X-Ray Diffractometer
Single crystal x-ray diffraction instrumentation
The Thermo Scientific ARL EQUINOX LAUE X-ray Diffractometer (XRD) is a versatile and cost-effective instrument for industrial and academic research laboratories that need to determine the crystal orientation of a wide range of single crystalline materials including aluminum oxide (Al₂O₃), yttrium aluminium garnet (YAG), potassium titanyl phosphate (KTP), cadmium telluride (CdTe), quartz, tungsten, calcium fluoride(CaF₂), lithium fluoride (LiF) and others.
The instrument decreases data acquisition times by quickly collecting Laue patterns on single crystal samples. Multiple diffractions can be observed, resulting from a high-resolution 2D Laue X-ray camera equipped with a hole in its center to allow the crossing of a collimated X-ray beam.
The ARL EQUINOX LAUE XRD comes with a goniometer-head sample holder on an XYZ stage. The goniometer-head enables researchers to easily transfer their crystal from a metrology instrument to the cutting machine and maintain the same reference point for their sample. The ARL EQUINOX LAUE XRD is also integrated with user-friendly software that simplifies Laue data analysis.
To learn more about our ARL EQUINOX LAUE XRD, please read our brochure and watch our video, Benefits of XRD in Teaching and R&D Facilities.
Dr. Simon Welzmiller is a Global Application Specialist XRD at Thermo Fisher Scientific.
 //
Subscribe now to receive Advancing Materials updates straight to your inbox.
Connect with an expert: https://www.thermofisher.com/us/en/home/global/forms/industrial/spectroscopy-materials-analysis-inquiries.html